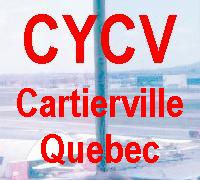 Staff Listing

Stories & Legends

Noorduyn Norseman

Canadair
Canso
F-86 Sabre
Northstar
T-33
Argus
Cosmopolitan
Yukon
Tutor
F-104 Starfighter
Dynavert VTOL
Water Bomber
F-5 Talon

CV Aerial Photos

Cartierville - Montreal's old VFR airport
---
---
You always form an attachment to your first ATC unit. In 1967, Canada's Centennial year, I was a new controller in Montreal, Canada's biggest city and Cartierville was Canada's busiest VFR airport, and Expo '67 was in full swing - I loved it!


(click on page links on the left to go directly to the subject)



Dorval tower, which sat atop the main terminal building, was relatively new, had a commanding view of the parallel 06/24 runways. The busiest runway. 10/28, was right in front and the tower was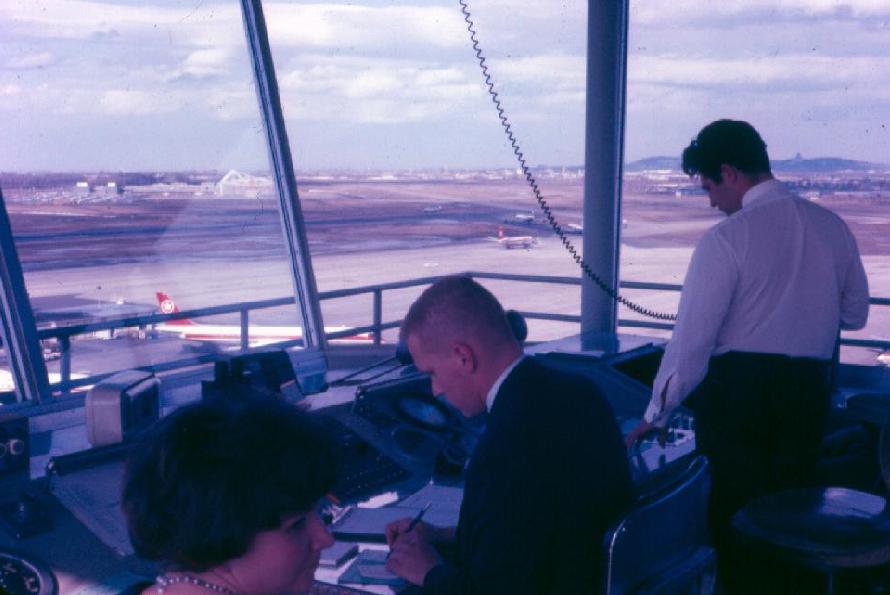 oriented directly North. There was also an excellent view of Mount Royal, the west part of Montreal and the Saint Lawrence River was less than a mile away to the south. I reported to Dorval in February 1967 and after checking out in May, I was transferred to Cartierville - three miles to the Northeast.

Cartierville tower was a wooden structure atop the airport manager's office. It must have dated from the late '40s and because it was relatively low, we could not see the threshold of either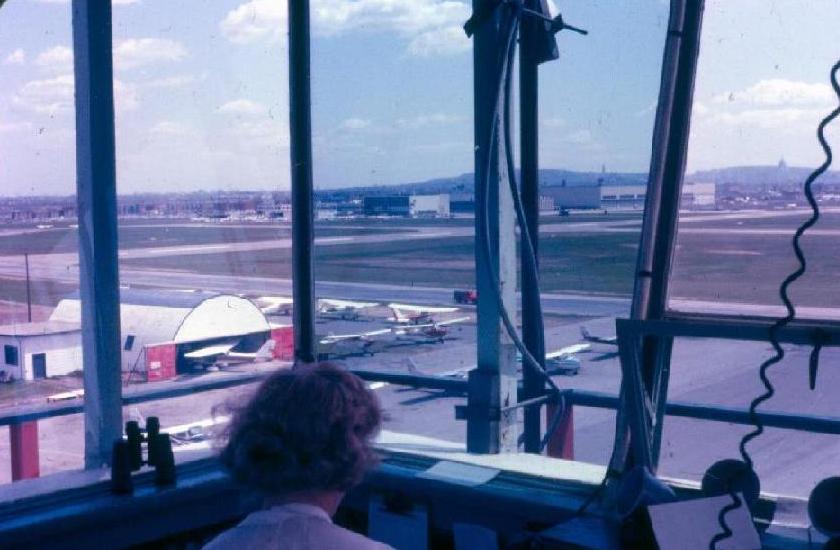 runway 28 or 10 - the main long runway. During my first week in early May '67, runway 15/33 was closed. Good thing as watching Cartierville with 3 runways in use was a scary experience. Itinerant aircraft or those training flights wanting a full-stop (as opposed to endless touch-and-goes) used 28. Flights destined for the circuit departed 33 while circuits were flown on 06/24. Because of the proximity of Dorval International (the approach to 24R at Montreal was about 1/2 mile east of Cartierville, we always used the same runway configuration as Dorval as both airports had similar runways; 10/28 and 06/24.

My instructors were Rene Proulx and Pete McGuarity and from them I learned to never look at the downwind leg - too confusing. All circuit traffic called turning base and were given the same instruction; "Call turning final". It was then that all control took place. It was not uncommon to have between
8 and 20 airplanes in the circuit and 3 to 5 turning final. At that point they were told either: "??? cleared touch and go, no delay on the runway", "Continue, you're number ? following ???", "Pull Up" or in some cases if you knew there was an instructor on board; "Turn left, keep it tight over plant one, do a full stop". It got even more interesting with Rene on the air mike as he didn't always use call signs. He used aircraft type and colour. So he might say something like "SXM, follow the blue 172, Red 150 pull-up." Amazingly it would all happen as he ordered.

It must have been pretty harrowing in the airplanes as well. When you're new and young in any business there is a strong tendency to talk faster as the level of activity/stress increases. Many of the student pilots were Francophone and only knew ATC English. I would not have survived had Rene not taken me aside and taught me some French phrases (with a good Montreal accent) to use when a pilot would not or could not comply with my instructions - as usual, Rene was right.

By 1967, a controller's shift cycle was a 3 and 2; three days on, two days off. Day one was 0730 to 1630. Day two was a split shift; 0800-1200 and then 1600 to sundown or shut-down. Day 3 was 0800-1600. If there was night flying, the late day and split shift stayed till about 2230. Night flying was limited to two nights a week and was highly dependent upon the weather. We finally learned to limit the circuit to a maximum of eight airplanes as more than that became dicey as only 06/24 had runway lights... During the week the airport was always busy and on clear VFR weekends it became a zoo with 2000-2200 operations during the daylight hours. I can recall one beautiful, clear Sunday in late August 1967 when there were no airplanes on the ground at Cartierville - they were all in the air. Understand there were four flying schools and at least 25 private airplanes and ALL of Cartierville's airplanes were either in the circuit or out on local flights. This meant a late night as we always stayed open on Sundays until the last airplane landed. Somehow the new guy always managed to draw the short straw...

Here is an incomplete list of controllers and "direct entry assistants" who worked at Cartierville from the '50s to 1968 when it closed and VFR operations moved to St.Hubert airport:


| | | | | |
| --- | --- | --- | --- | --- |
| Louis Boisvert | Pierre Marcotte (1956) | Mac Morrell | Selwyn "Buzz" Dumaresque | Dave Wolf |
| Claude Desrochers | Stan Madore | Rene Proulx | Pete McGaurity | Luc Salvador |
| Guy Bourgie | Ron Daly | Garth Caldwell | Bob Bridger | Frank Levesque |
| Frances Oneson | Fred Finney | Edna Dearden | Bob Smith | Phil Gies |
| Gilles Chalifour | Dick Lemay | Bob Willis | Bob Danziger | Gary Coffin |
Back to Top
---
The Argus was powered by four R-3350 Wright Cyclone radial enginess. The Cyclone engine was first tested in May, 1937 and versions of the engine remained in production well into 1950's. The R-3350 also found use in both civilian and military applications where it powered such aircraft as the Boeing B-29 Superfortress, Canadair CP-107 Argus, Fairchild C-119 Flying Boxcar, Douglas A-1 Skyraider and the Lockheed Constellation.
Back to Top
---