---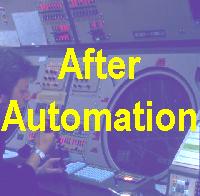 1978 to Today
or Automation and Winnipeg ACC
---
Automation came to Canadian ACCs and Winnipeg ACC in the '70s. Winnipeg was chosen for the initial installation of airport/weather information (OIDS) and communications (ICCS) while Moncton was chosen for radar (JETS). ICCS was also installed in WG Tower and was the only tower in the world so equipped. A well trained and competent group of DSCs and technicians ensured that the systems performed well in our 7-24 environment. This page features a collection of ATC pictures the mid '70s and on.

Latest update is January 13, 2019
---
---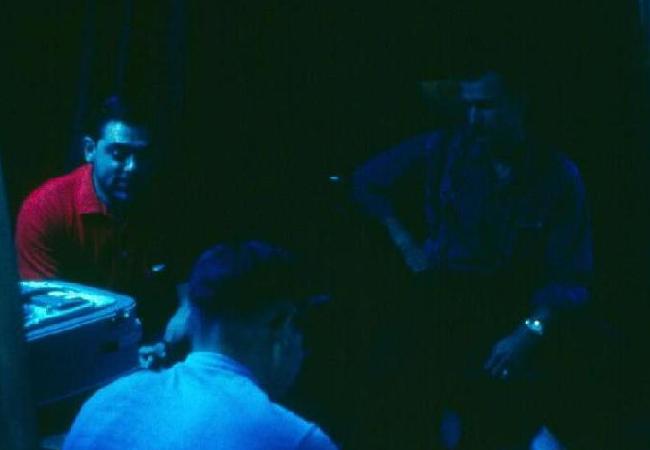 Looks like some fellows attending a seance. I believe that is a JETS meeting with George DeGroot on the left, Stan Enns on the right and Dunc DuFresne (JETS Implementation Co-ordinator).
When JETS was installed in WG ACC in the early '80s, it was a shoe horn fit and staff had to put up with endless moving and clutter. This picture shows the North board in the ACC about 1984 -
Mike Evaschesen to the left of Ken Kirton.
Always in the background, the OSS (Operational Support Specialist) always kept the ACC going. Over the years their title changed from B-Stand, to OSS, and now ATOS, but they were very necessary to the ACC operations: flight planning, flight data entry, and flight data exchange.
This photo of Greg Mager at an NFDPS position dates from about 1990 in the new ACC at 77 Moray Street.
| | |
| --- | --- |
| ACC operations room pre 1988. That's Glen Horoshok on the left and Ron Wilcox on the right - however Ron believes it's someone else. | ACC operations room pre-1988. Notice the ashtray (and cigarette) beside Terry Bartley. It's been many years since smoking was allowed in ATC - times have changed. Remember the cigars of Jim Allardyce, Don Fisher or Jim Kouk!! |
| | |
| --- | --- |
| ACC operations room pre 1988, second floor in the airport administration building. Second from left is either Dale Hannah or Rick Harris. Standing is Ken Carey and in front of him at the radar should be Terry Bartley. | ACC operations room post 1988. That's Marv Schissller on the left and Graeme Boyd on the right. Times have changed - notice the ashtray! |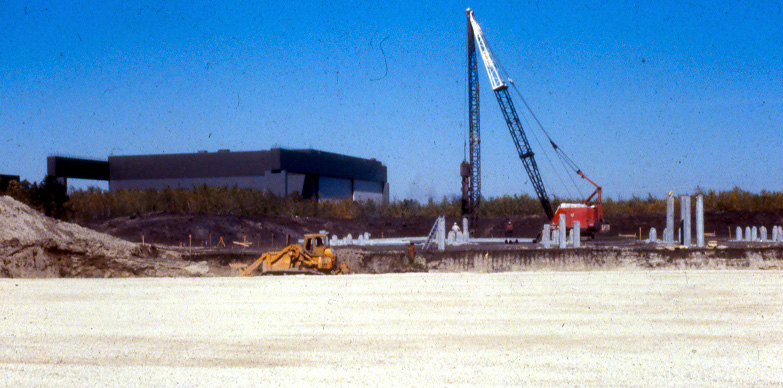 The site chosen for the new Winnipeg ACC was just south of the Air Canda maintenance hangar on MOT property. Construction was begun in early 1997 and the ACC opened on schedule and on budget in May 1998. Great work done by Bob Mercer (DSC) and Dave Stirling (CSM) who were were our technical and operational representatives.

Nope, its not Leisure Shirt Larry nor is it Tony Orlando.
It's Bruce Nahorny during his time as a Shift Manager in '90s.
Winnipeg's DSCs 2002:
Back L to R:
Richard Briand, Stan Enns, Terry Arnold

Front L to R:
Garry Brown, Ron Chase, Bob Mercer.
DSC Stan Enns in front of the old OIDS system way back when. Sharp eyes will notice an Interdata 70 mini.

Summer of 1985, JD Lyons presenting Phil Gies with a certificate regarding the WINS computer program.
As of 2007, WINS was still in operation in North Low at the ACC so it outlasted its author by at least 5 years...
| | |
| --- | --- |
| 2002 - Winnipeg Specialty on the left and Ontario Specialty on the right. | 2002 - Winnipeg Specialty, Steve Molloy holding down the fort on a midnight shift. |
---
---
From the WG Regional ATS School in the '80s and from Region
| | |
| --- | --- |
| Ken Racette teaching the finer points of ATC | And here's the chief of the school in the '80s', Al Holt who is also quite the marksman and musician. |
| Mike Budrow sharing a lighter moment, planning courses? | In the '80s, Regional offices were in the Assiniboine Credit Union building on York St. That's Bill McConnell speaking with Tanyss Funk. |
---
---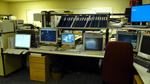 2009 - January. I was in the ACC for Ron "Big Bird" Chase's retirement and of course had to visit the DSC office. I was relieved to see that it was still organized clutter. There is certainly more to know and keep track of compared to my DSC days in 1976...

2010 - This picture was taken during Rich "Tricky Dick" Winton's last shift at Winnipeg ACC on November 19, 2009. In Rich's own words; "My first day with Transport Canada was December 1, 1969. My last official day was December 17, 2009, it was a day of leave."
To make the day even more memorable, AF1 was flying through WG FIR and the crew of AF1 and the following SAM flight wished RW well on his retirement - very neat!
1980 - These photos were found at Thompson FSS in 2018. Winnipeg Specialty
on the left and North Specialty on the right.
On the back of this photo

WINNIPEG ACC - TEMPORARY LOCATION SOUTHEND OF OPERATIONS ROOM
IN OLD AVIATION SERVICES AREA.
LEFT TO RIGHT: WEST DATA, WEST RADAR, EAST RADAR, EAST DATA,
TRSA DEPARTURE, ARRIVAL AND DATA POSITIONS. 25/09/80

Thanks to Jim Daher for this photo find
On the back of this photo

WINNIPEG ACC - NEW NORTH POSITIONS AT JETS CONSOLES.
LEFT TO RIGHT: NORTH LOW 1, NORTH LOW 2, NORTH RADAR
(FUTURE EXPANSION), NORTH HIGH. 25/09/80


---
Photos courtesy of Joe Danyluk, Stephen Molloy, and Peter Thompson
Back to Top
---