Perhaps the rarest picture in any collection. I believe this is the "operations room" of Winnipeg Centre before 1950.

The fellow nearest the back wall is Claude Brereton but the others are unknown.
This picture of the Winnipeg ACC IFR Operations room may actually precede the first picture. Anyone any idea of the year?
Today, Winnipeg Tower controllers use EXCDS and other modern automated systems. This is what the first tower radar installation looked like - likely late '56 or early '57. That's Tom Hayes on the phone and Larry Beaudry on the right.
The operations room of Winnipeg ACC about 1966. This room was located on the northeast corner of the second floor of the Airport Administration building. The controller on the immediate right should be Jim Allardyce. In front the of the PPI scope appears to be Dick Carriere. Note the dress code.
Early airport training aids. Left to right are: Nels Harvey, Vic Skinner, Cliff Gleave and Claude Brereton.

Another training photo. Thanks to Al Chance three guys in the photo have been identified: Per Kjell Sundin is the left talking on the phone, then Terry Murphy, then Wally Galka. The rest are perhaps students destined for Edmonton or Vancouver.
And a differing opinion has been sent in by Ron Hart. He says that is NOT Sundin, and after the instructor the rest of them are from Course 2. L to R, Galka, Murphy, Gagaluk and Bruns. Hmmm.
Winnpeg TCU radar, likely around 1956. Murray Sutherland or the left and Chuck Page on the right.
Remember PAR (Precision Approach Radar)? For many years this is what the general public thought all controllers did. In the early 1970s WG ACC had three ex. RCAF GCA controllers doing PAR duties; Gary Putney, Tom Cmikiewicz and Bud Petersen. This PAR controller is likely Gary Putney.
Winnipeg TCU before scans, 1968 or earlier. Gord Hole perhaps.
---
---
In the early days of ATC, the flying community was much more closely knit than today, and no where was that more evident than the relationship between the RCAF (Later CanForce) and ATC. The next photos from Al Chance's collection show that controllers managed to get jet trainer flights - talk about a fam trip!!
Al Chance writes:
"Ejection seat training in preparation for T33 fam rides."
Left to Right: Joe Mayo in the hot seat and hoping it won't go off
Al Chance, Glen Mead, Bill Thomson, Jim Allardyce, Bill Merlin WG ACC Supervisor, RCAF Instructor name unknown. (RCAF photo)
Al Chance writes:
"T-Bird Jockeys! Yes, we did actually get to fly in the T-Birds at Portage"
Left to Right: Glen Mead, Al Chance, Jim Allardyce, Joe Mayo, Bill Thomson.
---
---
| | | |
| --- | --- | --- |
| Where would we have been without the target generator for the IFR simulator. Les Driver, a WWII Spitfire pilot, doing yeoman duties sometime prior to 1970. | This picture features four students from course 7 in 1957. Left click on the image to see who's who. | Winnipeg East about 1975? |
Ron Hart writes:
"To your 'I have no idea who this, where and when it was taken...' Well I can tell you it is in Winnipeg Centre when it was on the second floor of Bldg 16 across from the old DOT hangars where Ferry Road ends and you turn west to go to the Western Canada Air Museum. The guy on the right is a younger me and it is Don Morton on the left, circa 1961/62".
Winnipeg ACC before the move to the new admin building, about 1963. That looks like Joel Nelson leaning back from the radar.
WG ACC before it moved into the airport administration building. So this photo dates from earlier than 1964.
| | |
| --- | --- |
| Transport Canada ATC hiring poster - 1966 or so. The ads in the Winnipeg Free Press or Winnipeg Tribune did was text only - no pictures. | Winnipeg FSS on the 2nd floor of the administration building. I'd guess this picture dates to the early '60s. |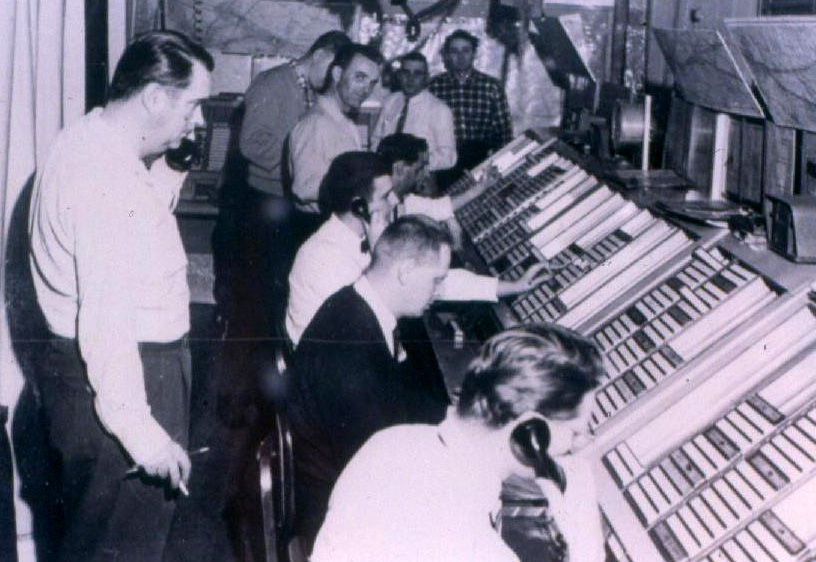 WG ACC Operations room, perhaps 1960. Glen Mead provides the following names and info.

Standing at left foreground - Joe Downey. Centre foreground - possibly Bill Thomson. Next him on his left - Bill Jashewski (BJ). Next to BJ - Duke Dewar. Sitting at far end of board - not known at present. Standing at far end looking toward camera - Bryce Llewellyn. Behind Bryce I think, is yours truly (Glen Mead). Finally, Rolly Porter and to his right, Ed Weinheimer.

This picture was taken in the old centre, second floor, that was modified from the one story former munitions depot, off the end of Ellice Avenue. (Circa - 1959 to 1963). Behind the curtains on the left were the back-to-back radar consoles. Once flights were in radar contact, control was transferred to the radar controllers.

| | |
| --- | --- |
| Winnipeg ACC on the 2nd floor of the Airport Administration building. Consoles are being constructed to house the new JETS automated system - '81 or '82. | Perhaps 1975 or so. This picture may be reversed left to right. |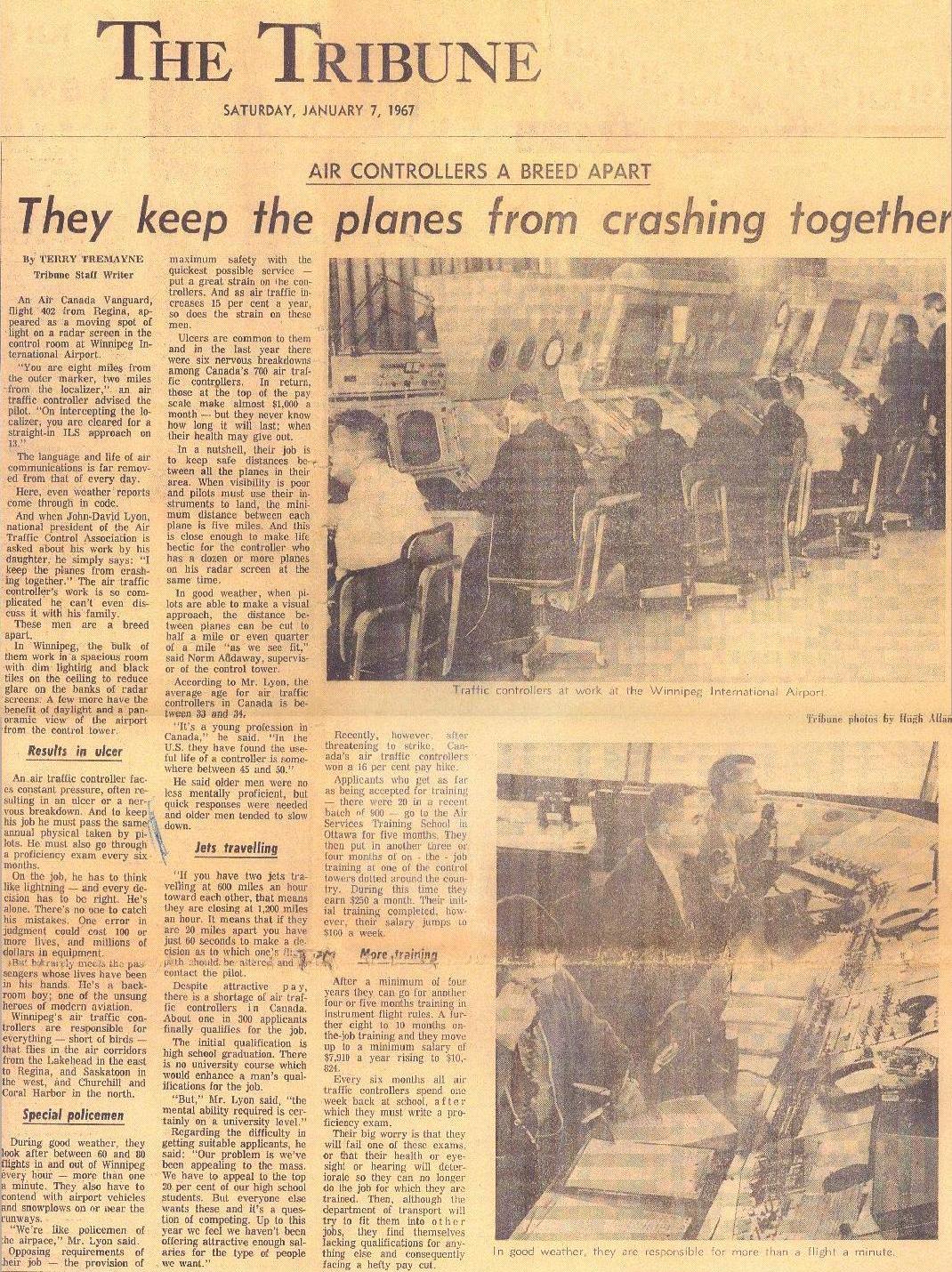 "They keep the planes from crashing together" - Winnipeg Trubune headline, January 1967



In the tower, the staff are (left to right) Les Kingdon, Al Otto and Mike Hudson.

The ACC photo is not clear, so here's Al Otto's estimate; (left to right) Herb Dugan, ??, Bill Shwartz, Don Wilson, Ed Romanik Sr, Charley Page, ??, Jim Allardyce and Nels Harvey.

As usual, JD Lyon did a good PR job!



Thanks to Al Otto for saving this newspaper article.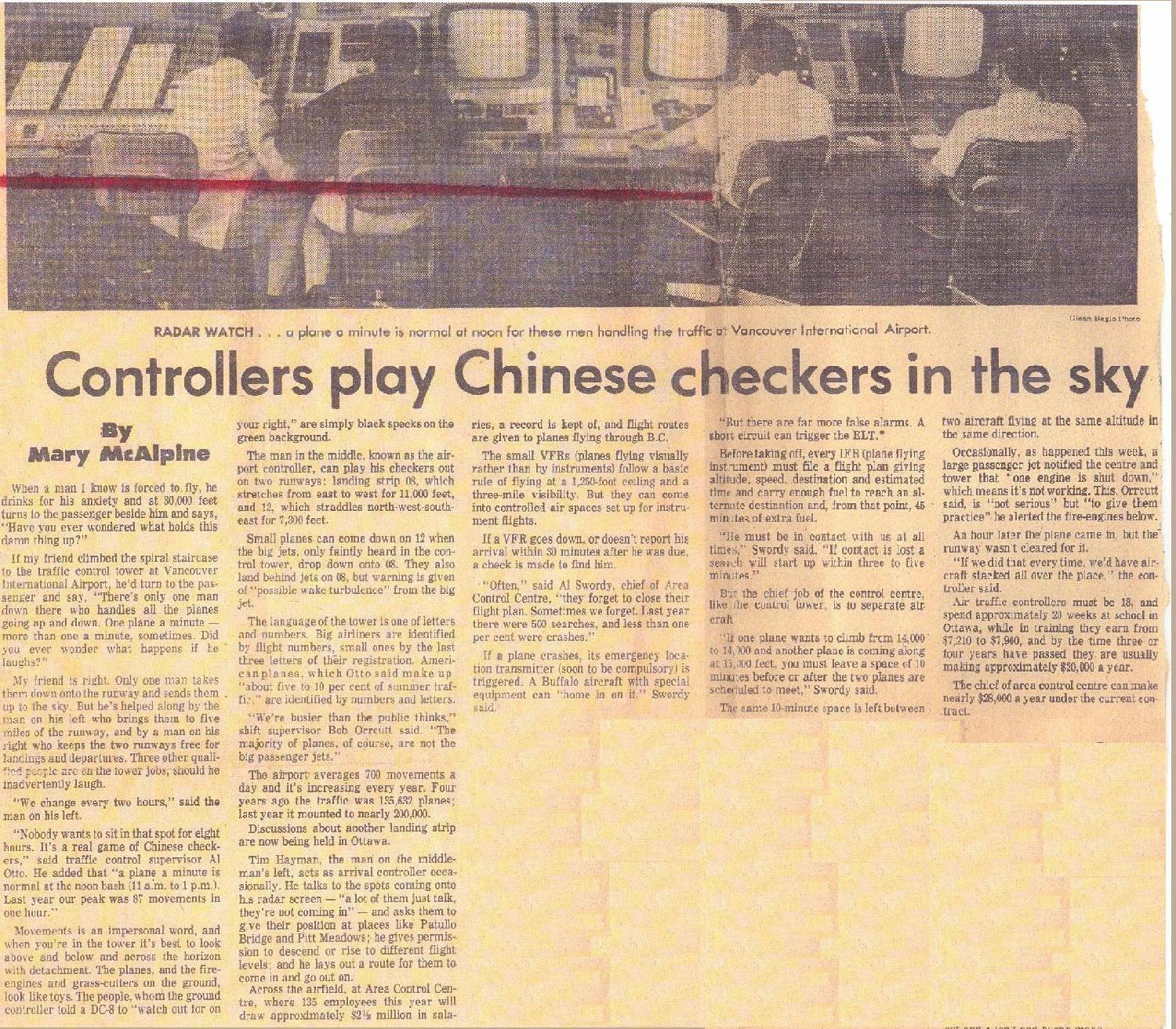 "Controllers play Chinese Checkers in the sky" - Vancouver Sun headline, August 1975



This article is a great example of "reporting". No wonder the public has difficulty understanding what ATC is all about. In Al Otto's words:
" After (you) read how I was quoted by some cub reporter (who thought it would be an attention grabbing lead line), you can only imagine how much flak I took from all the guys for quite some time - very humbling... I was only trying a simple answer to his question of "how does everybody work together with everybody else" (or something like that) I tried to explain that nothing is done in isolation - one move produces more than one effect. So often a move (or several) is made to set up a desired end effct - as in "Chinese checkers". Over the years the guys eased up on me and I risk re-opening my personal can of worms - c'est la vie!"

In the photo, Al believes that's Val Sartisohn on the left. Thanks to Al Otto for saving this newspaper article.
| | | |
| --- | --- | --- |
| Winnipeg Terminal in the late '70s. That's Chuck Page in the blue shirt "offering advice" to Don Wilson while Dave Mitchell is on the immediate left. | Winnipeg North, 1977? That's Cliff Strachan's profile and John Bauer's back. | Winnipeg TCU, perhaps 1977 or so. Dave Mitchell on the left, Al Otto? in the middle, and Ralph Frith on the right. |
| | | |
| --- | --- | --- |
| That's Brian Gudmundston standing and maybe that's Mike Evaschesen's left sideburn in the middle and Dale Hannah's hair on the right. About 1974. | Winnipeg North, before 1980. Looks like Dale Stinson on the left and Ron Hewitt on the right. | Doug Brereton working Winnipeg West. Doug transferred from Toronto ACC in 1976 so this picture was likely taken in '77 or '78. |
---
---
ATC life wasn't always serious !!
Looks like a good Christmas party. That should be Bob Mowbray sitting, second from the rightand above him looks like Murray Sutherland. Standing, on the right is Dick Carriere and next to him is his wife Sheryl.On the upper left are Vic Skinner and Tom "Top Cat" Hayes.
Ron Hart writes: "... beside Mowbray on his right is Bob Turner. The cutup with the glass in his hand is Dudley Dorsett and the ladies below Skinner and Hayes are Vic's wife Marge and Fran Batt. I would say circa 1955 there is no one from any of the WG ATC courses which started in Jan '56 in the picture."
Another Winnipeg ATC social. Probably from the early '60s. From left to right - Jim Allardyce's memory:
Dick Carriere and wife, Doreen Watson, Joe Watson, Sue Dyck, Norm dyck, Don Deally, Pat deally, Barry Tullock and date?, ??, Pat Halpin, ??
That's "Wild" Bill McConnell between the ladies and his wife Isabel on the right in the blue dress. Paul Sutton is the gent on the far right. Perhaps 1972-74.
---
---
From Cliff Johanson, a series of snaps from the '50s to the '80s

ATC/MOT curling champs
1956 perhaps?"

Click on the picture for the names.

The reason for this 1961(??) photo has long been forgotten, but these ATC stalwarts are:
(LR) Richard Cowan, Norm Addaway, Murray Sutherland, Les Driver, Charlie Page, Cliff Johanson
This is when CATCA started.
The WG delegation consisting of (L to R):
Cliff Johanson, Larry Beaudry, Les Bryans, Al Vanderpont and Herb Dugan

(ed. note) I sent this photo to Don DeCuypere, RATS+O in Ottawa.Here is his reply:
"I was at the founding convention also, but not as a delegate. I was running the PA
system and taping the sessions for the secretaries to transcribe.
I was a trainee then and supposed to be working midnight shifts,
but the CATCA guys talked Vic Skinner into letting me off to do
those tasks for the union; doubtful if that type of thing would
happen in these days of employee-management relations".



On the left: CATCA Montreal Convention May 1961. Jim Jordan podium Nels Mathieson standing.


On the right: Nels Mathieson standing in the dark suit. Sitting next to him is Pat Howe, then George Wilkins(EG).
Sitting on the far right is Rolly Poulett Lethbridge tower. Fellows sitting at the back against the wall are from WG centre.
Nelson Mathieson (YC) photo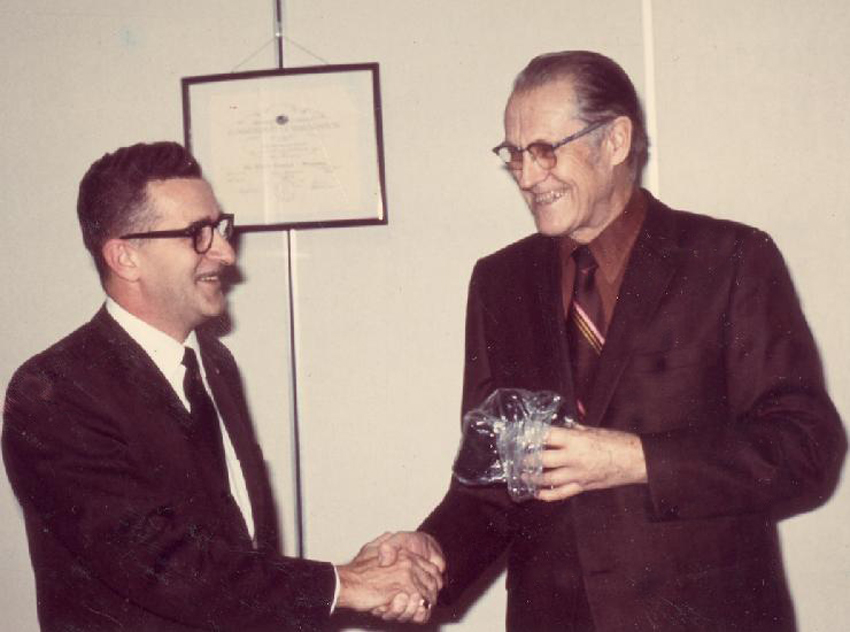 Nels Harvey retired in December 1971 after a long and noteable career. This was his last day of work and Pierre Arpin has just presented him with a retirement gift. Nels was an accomplished photographer and likely many of the "unknown" photos on this website were taken by him.

June 1983
I suspect this was a retirement party, for Norm perhaps.



June '83 - same party
Murray and Al enjoying a joke perhaps...

June '83
Marty managed to make into town from Saskatoon
and Bill managed to make it from the "Region"...


June '83
These two appear to be really enjoying the evening.



June '83 again - I saved the best for last.
Great snap of Jim Conway, Ed Romanik Sr. and Jim Allardyce.
You do have to wonder what was on Ed's mind though...
---
Top of Page
---
From Dale Stinson - Winnipeg ACC
| | |
| --- | --- |
| VFR Course #5 held in Winnipeg in 1957 - Dale Stinson on the left and Neil Rand on the right. | WG ACC operations room, 1962. Likely a Nels Harvey photo. |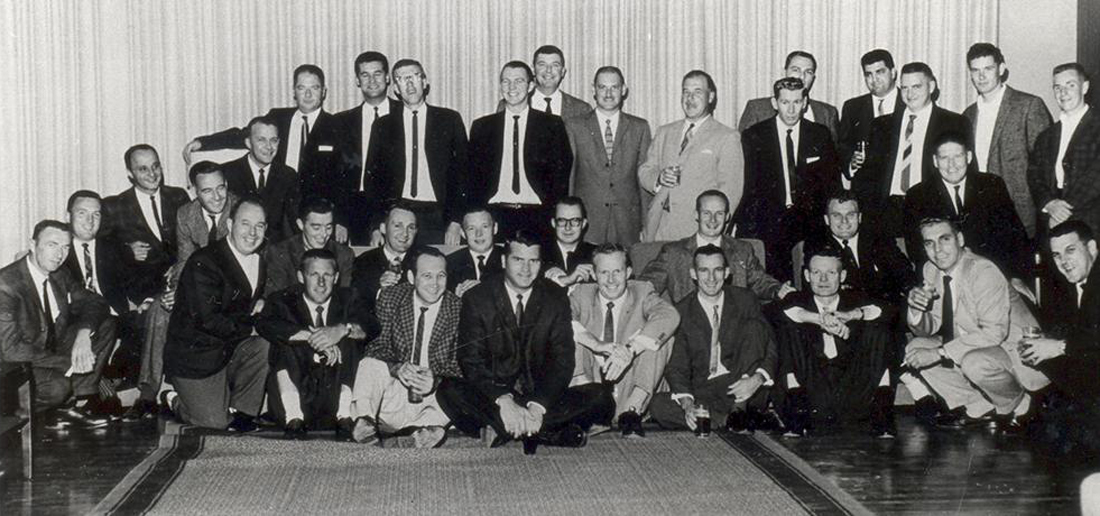 I think this picture came from Larry Beaudry. This appears to be an ATC / Air Force get-together around 1964. Lyall Davidson is right in the middle in this snap.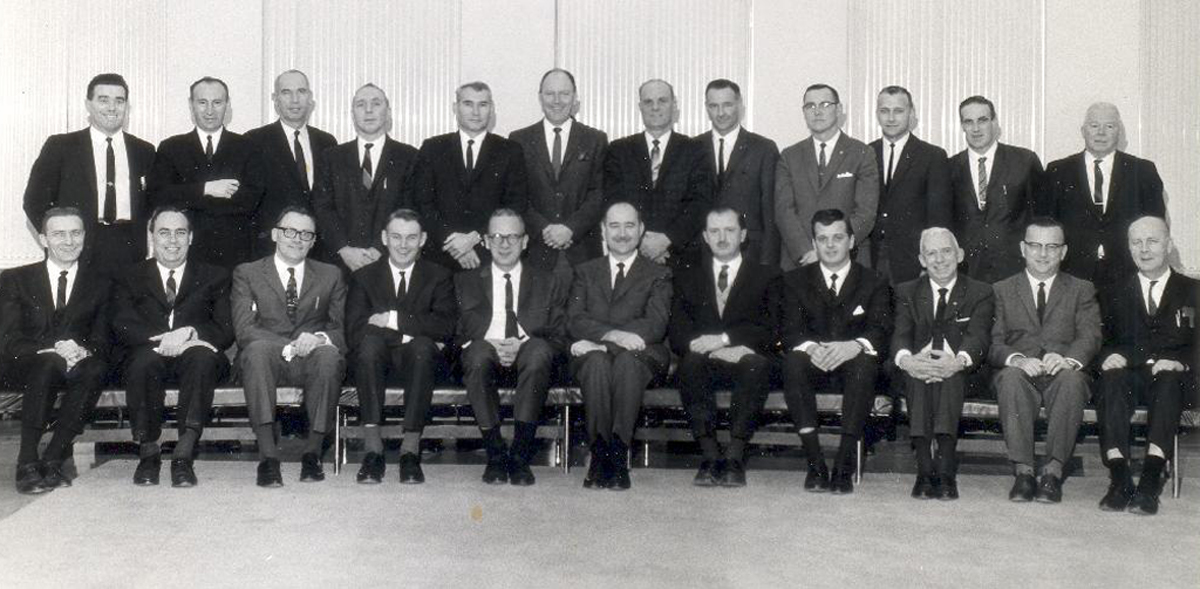 Another photo from Cliff Johanson. Nels Harvey took this of an ATC equipment course held in Winnipeg, November 30 to December 8, 1967.

back row - left to right: Bob Mowbry(WG), Cy Rowsell(QX), Wilf Barnes(OW), Les Driver(WG)
Al Swordy(VR), Cliff Gleave(EG), Jim James(QM), Hank Batt(WG), Norm Dyck(WG), Cliff Johanson(WG)
Ed Smith(OW), Bill Merlin(WG)

front row - left to right: Parker Curry(EG), Bill Varley(YZ), Bill Ellwood(YZ), Bill Bailey(OW)
John Scammell(OW), Jack Dods(OW), Pierre Joubert(UL), Maurice Pitre(UL), Colin Reed(EG)
Vince Campbell(HZ), Ken Charman(QM)

---
Top of Page
---
From Dale Stinson - Thunder Bay (Lakehead)

1957 photo of the Lakehead airport. The twin cities of Port Arthur and Fort William were popularly known as the Lakehead. The name of Thunderbay was chosen by public voting (Lakehead was one of the choices) and the official name change occurred on January 1, 1970.


Fred Ginter (chief QTZ then known as Lakehead Tower)
"I have your future in the palm of my hand"
(famous quote received by all new trainees at this facility!)
| | |
| --- | --- |
| 1958 Lakehead (QT) party - Ray Landry (under the table, which was not usually where you found Ray...), Sgt McLaughlin(RCAF GCA), and Brian West. Think they just started??..?? | Same party, this photo shows Orval Sneeve, Ray Foster, Doug Ellis. |
---
Top of Page
---
From Cliff Strachan - Thunder Bay (Lakehead)

Cliff Strachan: "The photo of Mt. McKay from the tower and from the airport infield looking almost straight down R12. It's well represented on approach charts by spot height.


(ed.note: I checked with Ron Dupree (1000 Aircraft Photos) regarding the odd looking airplane behind the Cessna, he has another Qt picture and says it is a Vultee 74 BT-13 Valiant.)

Cliff: ... I think this is the most interesting photo. It shows not only the radar "site" but QT TCU control unit - shack is more appropriate - located as it was on a hill about nine nm NW of and 1100' above the airport. It was a garage basically. And "pre-tech" right down to the "can" - which, again best describes this facility - both in the immediate and broader sense. It was not unusual to be VFR at the airport and in the clag at the site. Or, alternatively aircraft were missing approaches while we were "on top" looking across to Mt. McKay!
If you were to compare the inside of QT tower in 1962 with today, you wouldn't think you were in the same business. Now the environment is completely digital and modern. I wonder if the same sense of adventure, the sense of being an integral part of the aviation industry is still there...


(ed. note: Cliff also sent in a picture of the 1962 QT IFR course, check out page 2)
---
Top of Page
---
From Roy Cushway - Saskatoon
| | |
| --- | --- |
| An early picture of XE tower. Year unknown but looking at the equipment, I would guess pre 1964 at least. Notice the two light guns! | |
| | |
| --- | --- |
| A great find from Roy, a picture of the XE terminal staff in 1959. Makes for interesting reading. | XE staff lising from 1975. |
---
Top of Page
---
ATC life Wasn't Always Serious !!
Looks like a good Christmas party. That should be Bob Mowbray sitting, second from the rightand above him looks like Murray Sutherland. Standing, on the right is Dick Carriere and next to him is his wife Sheryl.On the upper left are Vic Skinner and Tom "Top Cat" Hayes.
Ron Hart writes: "... beside Mowbray on his right is Bob Turner. The cutup with the glass in his hand is Dudley Dorsett and the ladies below Skinner and Hayes are Vic's wife Marge and Fran Batt. I would say circa 1955 there is no one from any of the WG ATC courses which started in Jan '56 in the picture."

Another Winnipeg ATC social. Probably from the early '60s. From left to right - Jim Allardyce's memory:
Dick Carriere and wife, Doreen Watson, Joe Watson, Sue Dyck, Norm dyck, Don Deally, Pat deally, Barry Tullock and date?, ??, Pat Halpin, ??

That's "Wild" Bill McConnell between the ladies and his wife Isabel on the right in the blue dress. Paul Sutton is the gent on the far right. Perhaps 1972-74.
---
Top of Page
---
The Early Days of Air Traffic Control, Winnipeg ACC and Tower

in the words of Roy Cushway, December 2007
The old Control Centre - How it was
In 1954 two very important events took place in the field of aviation. The U-2 Aircraft was born; the brainchild of a thirty-nine year old engineering prodigy named Trevor Gardner. This aircraft was built in less than eight months, and in the air flying at altitudes above 70,000 feet for periods of 10 - 12 hours without refueling. It was later called the "Black Lady of Espionage", by Francis Gary Power, 1956. The other event took place at 10 a.m. on a bright sunny day in Moose Jaw, Saskatchewan. A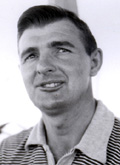 NATO student, flying a Harvard aircraft had just taken off from the airbase south of the city and was cleaning up his aircraft at 4000 feet VFR over the Exhibition grounds on the north side of the city, on a heading of 360 degrees. A Trans-Canada Airlines, Northstar was westbound, also at 4000 feet IFR in VFR conditions when the Harvard slammed into the left underside of the airliner killing all passengers and crew of both aircraft. That was the worst accident in airline history in Canada, April 8, 1954; 37 killed - 31 passengers, 4 crew, 2 air force pilots. The rules and procedures of Air Traffic Control changed dramatically, with the rapid growth of civil and military training, increased speed and altitude.
When I arrived at Winnipeg Centre to begin my formal training I was given a tour of the centre where I was to be working. This did not take too long as the controllers on duty were very busy. The size of the workspace was smaller than most living rooms at 14 x 20. The four controllers and the chief of the unit were controlling all aircraft flying IFR from the Lakehead west to the Alberta border. There was a large sign above the Winnipeg control position that pretty well summed up the situation as far as the Controllers were concerned. It read: IF YOU CAN KEEP YOUR HEAD WHEN ALL ABOUT YOU ARE LOSING THEIRS, THEN YOU JUST DON'T UNDERSTAND THE SITUATION.
The other facility where I was to be training was the Winnipeg Tower. This work place was slightly larger than our bathroom and looked like an abandoned steel tower with a glass enclosure on the top. Inside, controllers were speaking a language I didn't understand, and the pilot 's responses were unintelligible to my ears! After my indoctrination to the work area and introductions, I was assigned to train with one of the B stands. There were two B Stands on duty to assist the controllers with message handling, weather information and many more tasks that occur during a tour of duty. We were told that when the controllers said; "Jump", we should respond; "How High?" I was to keep out of the way as much as possible, but to stay within earshot when we were needed. Because of the small workspace it was easy to understand why. The noise level increased as the traffic built up each day. There were 4 Controllers on duty, and their workload was extraordinarily heavy. They grumbled now and then, but they were glad to be doing the job they did because of the challenge, plus the feeling they were performing a very necessary service to all concerned. One of the controllers would sit back in his chair during a lull in air traffic, close his eyes, and dream of the peach orchard that he hoped to have someday in the Okanagan Valley of British Columbia.
When a new controller is assigned to a unit, one of the first things he gets with his indoctrination is a set of initials. Usually his own initials will be used, except, as in my case someone already used those initials. My initials are R T C , but Richard Cowan was using RC; Robert Turner was RT and Torchy Cowan was CR, so I adopted TR. These initials are used with all transmissions when using landlines. All conversations are recorded so that if there are enquiries or procedures to be checked, all persons are easily identified. These operating initials remained with each Controller throughout his career and quite often ATC personnel call each other by their operating initials. Although I am now retired I have my ATC initials as part of my personal license plate.
All the controllers, save 2 or 3, in Winnipeg Centre were Veterans. Vic Skinner (VS) had been a fighter pilot who lost a leg during the war.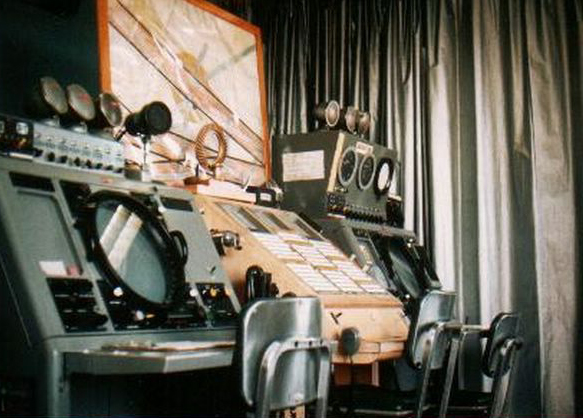 He smoked a pipe, and even when there was no tobacco in the pipe bowl he would chew on it. His bottom teeth were worn down to gum level. He had scrounged an old passenger seat from a DC3 aircraft that he would use when he was relaxing between busy periods. Vic was an excellent controller and eventually became chief of the centre. He has now gone to that control centre in the sky, where so many controller friends and colleagues have joined him.
All the controllers in this business were excellent; each one had an individual way of doing the same thing. Rolly Porter (RP) was the smallest one there at that time, but he had a strong voice and everyone knew when he was around. Dudley Dorsett (DD) had long black hair in pompadour style, heavy eyebrows, wore glasses, smoked cigars and a pipe. George G. Smith (GG) was soft spoken, smoked a pipe, and would tell you exactly how a grapefruit should be cut and eaten. Bill Kelloch (WK) was short, slightly stout, wore glasses, didn't smoke, was not a veteran which I think the other Controllers gave him a hard time about. He would volunteer to work most of the midnight shifts just so that he could avoid the bugging and hostile atmosphere during the day shifts. Ray Peden (PR) was tall and slim, bespectacled with a very quiet manner, except at a Staff party. At a Christmas party for tower and centre personnel at Jack s place, south of Winnipeg, there was a lull in the music from the orchestra, so everyone went back to their seats, or to the bar, or the food buffet. Ray was standing in the middle of the floor with a pickle in his hand, waving it around, as though he was scolding, or trying to get a point across to the tower chief. He hadn't noticed the music had stopped, and they were alone in the middle of the floor. Everyone had a laugh about that. Robert Turner (RT) was a blond suave debonair, quiet controller. He was the guy dreaming about the Peach Orchard. I think he used that as an alternative to the pressure of the rat race in the Centre. Bob had another favorite expression when things got hot and heavy; "ONE OF THESE DAYS THE WHOLE THING IS GOING TO BLOW UP".
The control centre was small and the smell of smoke was heavy at times but you had to tolerate it then. Everyone brown-bagged then, because there was nowhere close to eat out. The control board was set up with four sectors: Winnipeg (about 30 mile radius of the Airport); Winnipeg West included Portage and MacDonald Airports (RCAF) to Yorkton, Sask; Regina, Moose Jaw and Saskatoon airports sector; Winnipeg East - including Gimli (RCAF), and Lakehead airport (now Thunderbay). The Controllers aids were primitive by today's standards, but as air traffic increased so did the facilities and the Controller' s aids, but they always seemed to be one or two steps behind. All the rules and regulations for controllers were contained in one small book. These of course had to change with progress and today they involve a manual about two inches thick covering two volumes of procedures, and many more covering rules, NOTAMs, equipment, administration, directives, etc. All the controlling in the centre was done by a telephone system to other radio operators and tower controllers. The Winnipeg controller had one frequency to talk directly to aircraft inbound or outbound to/from Winnipeg. The switchboard system on the control panel was duplicated on two desks at the rear, for the B Stand. Every day was a busy day in the centre and the noise level was nerve wracking; phones ringing, bells ringing, and voices raised to get a message across. There was no stopping for meal breaks, eating on the job was the way of life for controllers.

Embryonic Traffic and Types of Aircraft
In 1954-55, the jet age was beginning, so the rules of the air began to change rapidly over the next several years. As a matter of fact they are constantly changing and continue to do so. The T-33 was the military trainer at this time, and there were many stationed at Gimli, Portage and MacDonald bases in Manitoba. Of course the other old reliable work horses were still prevalent here and scattered across Canada; Harvards, B25s, C45s, Cessna, Argus, DC3s, Helicopters, C119s, F86s, CF 100s, CF 101s, Northstars, and Britannias. Trans Canada Airlines (TCA) were flying NorthStars, DC3s, SuperConnies and the Bristol Freighter. The first time I gave landing instructions to a Bristol coming in to land on runway 36 from the north, I blew it. We were programmed to say; "check wheels down and locked", after giving landing instructions. The Bristol Freighter had fixed undercarriage. The pilot was quick to respond with down and welded.
One thousand on top was a new term being used to accommodate a lot of aircraft in the sky at the same time. The meaning of the term was basically that an aircraft could go up above the cloud at least 1000 feet, and fly by the Visual Flight Rules (VFR). A clearance was needed to get above the cloud, and again when the aircraft decided to come out of the cloud . Jet aircraft would generally go above 20,000 feet, and the piston planes would fly at the lower levels, sometimes between the cloud layers. Civilian aircraft were able to live with this arrangement because they were all piston, and flying at lower levels. There were problems from time to time but the system was still safe. The Department of Transport did not have Radar. There was an American Early Warning Radar site just east of Winnipeg at Milner Ridge which was available for emergencies. The main navaids were Radio Ranges, some beacons and few stations had Automatic Direction Finders (ADF). NATO training was increasing and the skies would fill up with students and instructors from the three RCAF bases in Manitoba. Winnipeg had a large RCAF training station based on the west side of Stevenson Airport (Winnipeg International Airport).
During my first week at the new job, I heard a MAYDAY call on 121.5mhz from a T-33 lost on a navigation trip. The Radio Station was in the next room to the centre and when the radio volume was turned up we could hear everything from where we were sitting. I was involved in a lot of emergencies during my career, but this was the only time I heard the words MAYDAY-MAYDAY-MAYDAY being used to signal that such an event was taking place. The pilot talked in a calm and collected voice as the ground stations were frantically trying to get a fix on the aircraft. Finally the pilot said, he was out of fuel, the engines had stopped running, and he said; "I'm going to leave her now." Then there was silence. The T-33 crashed near a graveyard south of the Manitoba border. The pilot parachuted safely into a farmer's field.
Friendships grew rapidly at the Winnipeg Centre. The tower controllers and the centre controllers were a closeknit group. The profession was unknown by the average person on the street. Whenever someone asked where I worked, that was confirmed. When I replied I worked for the Department of Transport, it was assumed I worked in one of three areas: 1) Truck Driver, 2) Royal Canadian Air Force, or 3) Trans Canada Airlines. Controllers pretty well stuck together as a group, mainly because no one understood our language. The thing uppermost on our minds was to replay last week's or today's problems and to talk about them with someone who understood us. Most pilots were friendly and understood that most problems were due to the system, and not to the Controllers. To err is human and this can happen to a controller or pilot anytime. When I was taking my training in the Winnipeg Tower my guiding light was Hank Batt, who is now in that Control Tower in the Sky. Hank made it very clear to me from the start, that I was to make my own decisions, make them right, and stick to them. Don t let someone senior change your mind because, he said, if you make a mistake, and you turn around to see where everyone is, there will be no one there.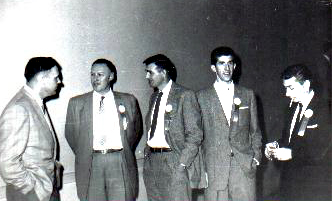 Even your best friend won't know you. You will be left holding the mike all alone. This advice proved to some of the best I got throughout my career. I saw it happen to other controllers many times.
Winnipeg Tower was just that - a tower. It was a steel tower with a glass box on top, about 70 feet high with a zigzag staircase on the outside. The Winnipeg flying club was built along the north side of the Tower. There was no lunchroom, bathroom, or reading room. The heat was supplied by old electric floor heaters, originally used in railway cars and converted to 120V. We used to toast our sandwiches on them. A water jug stood in the corner, like you see in offices, with everyone congregated around it. On cold winter nights it was a long way to the bathroom, so some of the guys would just relieve themselves over the railing. The flying club manager asked us not to do this, as when it was freezing, with a south wind blowing, It would freeze to their lounge windows, and no one could see out!!
There were very few women in ATC at that time; one in Edmonton, one in Montreal, and Beth Russell in Winnipeg. Beth was an excellent controller and she was well liked by everyone in the business. I admired her very much and she taught me a few lessons, although I was never assigned as a trainee to her. There was a girl hired shortly after me, Marg Quinn who became a good controller. Because women were a minority and new to the profession, some of the guys gave them a hard time. I think that quite often, Beth would try to give me a bad time when I was working on her shift, just because of that. Torchy Cowan came on the scene about this time. He was an ex-air force type who still flew Mustangs for the reserve. He was called a Weekend Warrior. He and Marg struck a note with each other, soon married and moved to Regina where Torchy signed on as an airline Pilot with CPA, and Marg continued as a controller for a short time.
Jack Dodd was a cranky, older, seasoned controller with very little hair. They say he pulled it all out trying to control the Weekend Warriors. Usually there would be four or five of them up in the air at the same time and they would either spring an oil leak, or the gear would stick half up, or they would come screaming into the circuit at 200 knots and disrupt poor Jack's neat and orderly circuit patterns. The tower controllers mike hung from the ceiling on a long curly cord so that controller had some mobility to see out the backside of the tower. Jack would be stomping around, hollering into the mike, and when it was all over he would get on the phone, and do it all again. Jack was also a Reservist so he swung a bit of weight over at the other side with the Reserve Squadron.
The procedures for a new trainee to follow were quite simple. Do the work of the B Stand, absorb what was going on around you, and study on your own time; the weather manual, airport procedures, aircraft types and capabilities, radio terminology and techniques, memorize the airway system and abbreviations for the reporting points and operating stations, airports, and aircraft types. When you thought you had a handle on it all, you requested an examination date with downtown office to write the exams one at a time until finished. The next step was to get a Radio Telephone license so you could use the radio equipment.
The Attributes of a Good Controller Were, and Still Are:
1. Common sense and Stability. 2. Flexibility and Good Judgment 3. Maturity, Alertness, Decisiveness 4. Ability to work Individually or as a Team Player 5. Reliability 6. Memory Retention and Loyalty 7. Self Confidence, Self Control, Integrity 8. Good Voice Projection 9. Leadership Qualities 10. Responsibility and Initiative 11. Ability to Work under Stress 12. Gregarious 13. Ability to think in an abstract three dimensional environment.
Winnipeg Tower used a board with large numbers on the outside of the tower facing the runways. This was for the benefit of the NORDO aircraft to see which runway was in use. When the wind direction changed someone had to run out and change the numbers, no matter what the temperature, and it could often be - 30C. Usually everything in the Tower went along tickety-boo until bad weather moved in or a power failure occurred. Emergencies always seemed to happen when the weather was crappy or some aircraft had a radio failure. Backhoes working around the airport area often would dig up cable and cut off the tower land-lines. Due to the numbers of aircraft that would be in the air using VFR and the scramble was on to get back to base, also the navigation flights would return and this would produce a stack, some were stacked on beacons and some the range. VORs were not in use in Canada, and there was no radar. Aircraft on the bottom of the stack naturally got first chance to the approach, but when an aircraft iced up, or had fuel problems, it usually came barreling right on down through the whole mess. This stacking system sounded straightforward and should work - 10 minutes between let downs, if all military, otherwise fifteen minutes. So when the aircraft was cleared for an approach, it had fifteen minutes to carry that out. In the tower the noise level was high due to the poor acoustics and the row of individual speakers along the front of the console. One speaker for each frequency and several would be in use at one time.
At times the ground visibility would be so bad, the ground controller could not see the aircraft or vehicles on the taxiways. The old hand signals were then used between ground controller and airport controller to signal each other about different occurrences. Once an aircraft called for taxi instructions and the controller gave him the works (wind direction, speed, time, altimeter and direction) to get to the button of the runway. A little later after the controller strained his eyeballs, but couldn't see anything, he asked for his approximate position. The aircraft said it was still in the hangar and would be starting up shortly!! Everyone howled with laughter at this, but the ground controller was too busy, and just let it slide. The Tower quite often got phone calls from Realtors, who had houses on the market near the airport. The Realtor wanted to know the wind direction and which runway was in use. If runway 36 or 32 were in use, there was no sense in taking a prospective client around because of the noise levels on those approach paths. One Realtor actually wanted us to hold traffic to another runway for about 30 minutes, so he could take his client to see a house on the approach path to runway 36!!
Roy Cushway
Latest Update: December 21, 2013
---
Top of Page
---
Don't forget to forward corrections to giesph@mts.net