OPs Eval - 1970s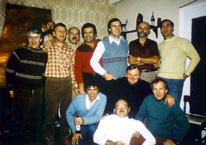 Known as the "wisemen", this was headquarters Operational Evaluation team in the 1970s.

back row L-R: Pierre Sauve, (John MacNeill?), Al Yeadon, Jack Penney, Nick Odyninki, Floyd Kelly, Don Parrish, Tom Fudakowski

front rows L-R: Doug Buchanan, Chuck McQuaig, Ned Taylor, Don Piercey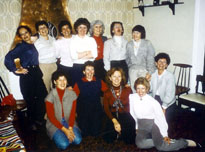 We all know that behind every "wiseman" there is an even stronger "wisewoman"...

back row L-R: Eileen, Pat, Joanne, Shelia, Helen, Eleanor, Janet

front rows L-R: Cynthia, Marilyn, Edna, Susanne, Mickie

Bob Parker's Collection (2010) - Newfoundland
For a couple of years, well at least 1 year, Bob Parker has been promising to send along some ATC pictures. In mid January 2010, Bob sent along a number of photos. I will add pictures as I find names for the people in some of photos, but I will start with pictures that can be readily identified. Bob has had a life-long interest in aviation and thankfully brought along his camera on many occasions.
It's hard to imagine that some 80 years ago, aviation was in its infant stage and regular transatlantic flights were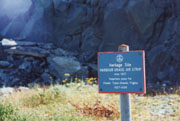 only a dream. From Wikipedia; "As trans-Atlantic aviation became more popular in the 1920 and '30s, many aviation pioneers chose to make their crossing from the nearby Harbour Grace airfield due to its proximity to continental Europe. Altogether, some twenty flights left Harbour Grace from 1927 to 1936 in their attempts to cross the Atlantic. Amelia Earhart took flight from Harbour Grace on May 20, 1932, to become only the 3rd person and the first woman to fly solo across the Atlantic. "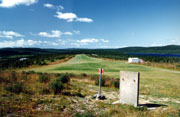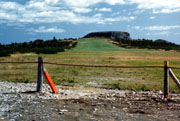 The first picture is looking East towards the Atlanic, and Europe, many hours away. The second photo is facing West and it the direction most of these early flights took off. Early aviators were smart to use gravity to provide additional speed as they were almost always over gross weight.
Here is an interesting link to more information about Harbour Grace.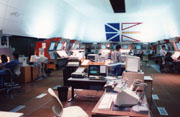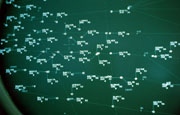 Gander Centre, CZQX, has long been one of the best air traffic control facilities in the world and was one of the first to utilize computers as GAATS dates into the mid 1960s! Did I mention Newfoundland pride? Check out the flag. This went up on the wall many years ago during Transport Canada days. Perhaps it's still there...

The evening eastbound flow. Gander operates something like an accordian. In the late afternoon and early evening it is quiet, then the evening eastbound flow starts and the center gets very busy. When the flow is over it is quiet again until late at night, or early in the morning if you prefer, the westbound flow begins and the center again shifts into high gear, scravell'in gear to the locals.
Bob Parker's Collection (2010) - Maritimes
These days, at many of Canada's airports that have a control tower, the structures are modern and filled with many computerized systems. Heck, they're even air-conditioned! It wasn't always like that. Thanks to Bob Parker's good sense to carry a camera we can see the old and new.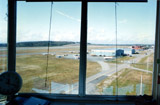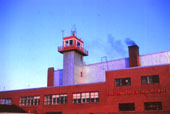 Near right: I've never been to Moncton airport but the old tower is similar to other "old ones". Bet it was cold in the winter!!

Far right: View from the old SJ tower, looking West.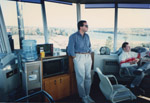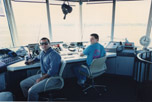 A couple of pictures taken inside the cab of the old Saint John tower.

Far left: Standing on the left is David Publicover, and on ground that's Terry Chase.
Near left: David Publicover on ground and Shaun Miekle on the air mike.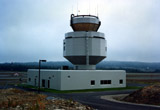 Saint John tower
Then
and
Now

I contacted John (JJ) Corbett to put names to faces in the above SJ photos. In turn, Vic Boymook, Brendan Boymook and Dave Publicover were contacted. Turns out that in the 1960s,Vic was a Nav on Argus. My good friend Hugh McCallum was an RO on the Argus during those years. Gotta love the internet for making connections! Thanks to John Corbett and Bob Parker.