Canada's North
---
---
Air Traffic Control history in Canada is a fascinating study but I can only relate to the years from 1967-2002. As a new VFR controller all I knew about ATC in the North I had learned in Ottawa on Course 20 in 1966. In other words I knew very little about Goose Bay Labrador and even less about Frobisher Bay NWT. After I checked out IFR in 1969 in UL I met several controllers who had worked in Goose Bay and Frobisher Bay. Men like Garney Strahl, Ed LeSage, Don Parrish and Ray Landry to name a few. So for the majority of us, then and now, our knowledge is limited to stories the "old timers" have passed along.

One of the many pleasures of creating and maintaining this website is re-establishing contact with many of the fine controllers I have had the distinct pleasure of working with, and meeting new people and learning about their experiences. What follows is information about YFB from Ed LeSage, information about YYR from Ron Hay, and pictures of both places provided by Ron Hay.

Latest pictures are of Frobisher and
Goose Bay
Although YFB is at 63°45'N/68°33'W and YYR is at 53°19'/60°25', I would consider YYR to be in "the North". North is more relative to the distance from populous areas of the province or territory. I grew up in Flin Flon MB [54°46'N/101°51'W] which is considered North in Manitoba. We moved to Thompson MB [55°48'N/97°49'W] and I thought the people from Sudbury were funny; they considered Sudbury [46°37'N/80°48'W] or about 580 miles south, to be in Northern Ontario.
---
---
- Frobisher Bay -
Iqaluit, the largest community in Nunavut as well as the capital city, is located in the southeast part of Baffin Island, at 63° 45' N., 68° 31' W. Formerly known as Frobisher Bay, it is at the mouth of the bay of that name, overlooking Koojesse Inlet. "Iqaluit" means 'place of many fish'.
The first Europeans (qallunaat to the Inuit) into Frobisher Bay were the crew of Martin Frobisher's ship Gabriel, in August 1576. The bay was a disappointment, though, as they were seeking the Northwest Passage, the mythical northern shortcut to Asia. No Europeans settled in the bay until 1914, when a trading post was established to tap the riches of Baffin Island.
It was World War II that eventually brought modern development to the bay. In 1941, a weather station, code-named Crystal II, was built by the US Air Force to assist in trans-Atlantic flight planning. A large air base was built by the United States the following summer, to refuel aircraft headed for Europe - after the war, Canada purchased it for $6.8 million. Frobisher Bay was an important location all through the Cold War as well, from the construction of the first radar station in 1953, to the official closure of the Canadian Air Command detachment on December 1, 1983. In 1987, its strategic importance was again recognized when it was designated as one of five Forward Operating Locations for the new CF-18 fighter jets.
The former military airport at Iqaluit, at an elevation of 34 meters, has the longest runway in the Canadian Arctic (8,500 feet). It not only serves airlines connecting to southern Canada, but also serves as a refueling, and occasionally an emergency landing site, for international flights.

---
From Ed LeSage:
During my time there (1960 to 1963) USAF/SAC had about 15 KC 97 tanker a/c stationed there. There purpose was to refeul the B52's (if nessesary) that patrolled the Artic during the cold war. The USAF built that runway that long to accomodate the B52's in an emergency. The USAF also operated the Dew Line Radar site at Upper Base.
When transatlantic jet flights began, Frobisher Bay was also used to service the Trans Polar jet a/c that used it as a refeuling stop for the short haul B707's and DC 8's. Once the long range B707's and DC8's were put in service YFB was bypassed by them. All this time Canada provided the ATC service. and when the USAF/SAC moved in, Canada just continued providing that service.
---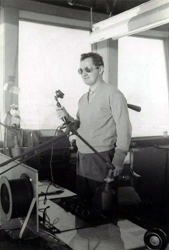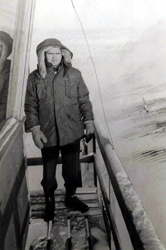 << Eric Staples ATC - December, 1957 in Frobisher Tower (based in Goosebay, Labrador and was on temporary duty in Frobisher Bay)
Eric Staples ATC - December, 1957 standing outside of Frobisher Tower. >>
Photos and text courtesy Brenda Staples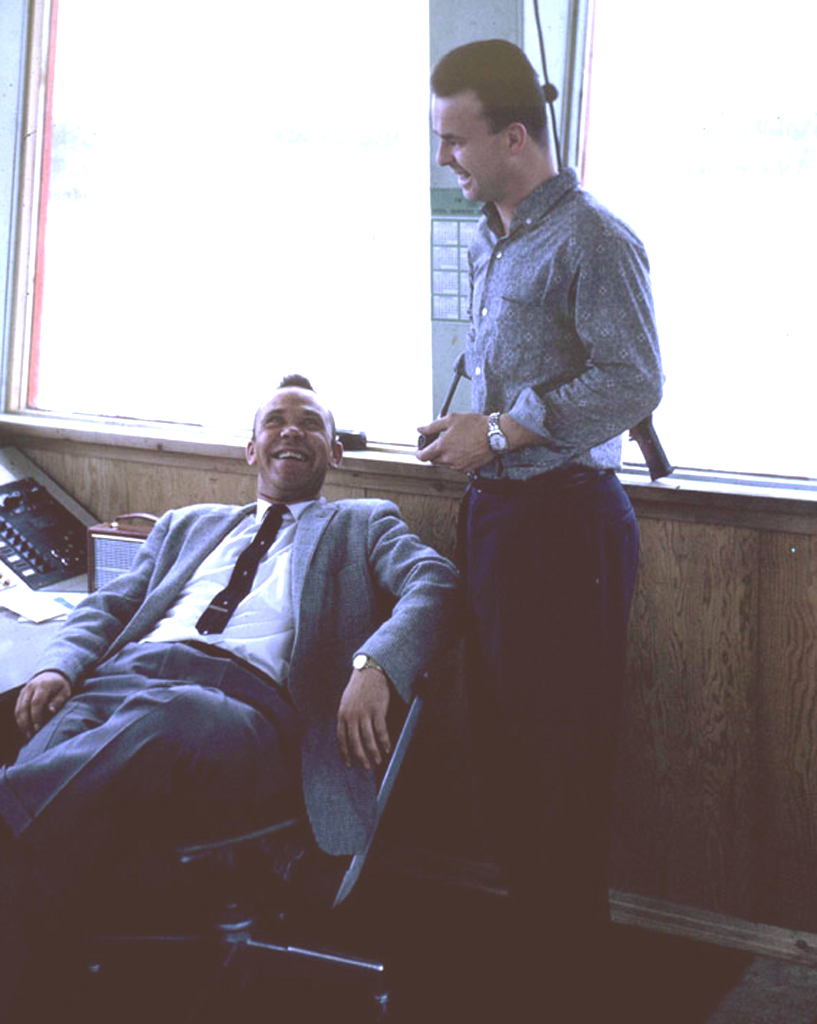 The "good old days" in Frobisher Tower in 1962. Garney Strahl and Ed LeSage enjoying a laugh. Note Ed's pipe!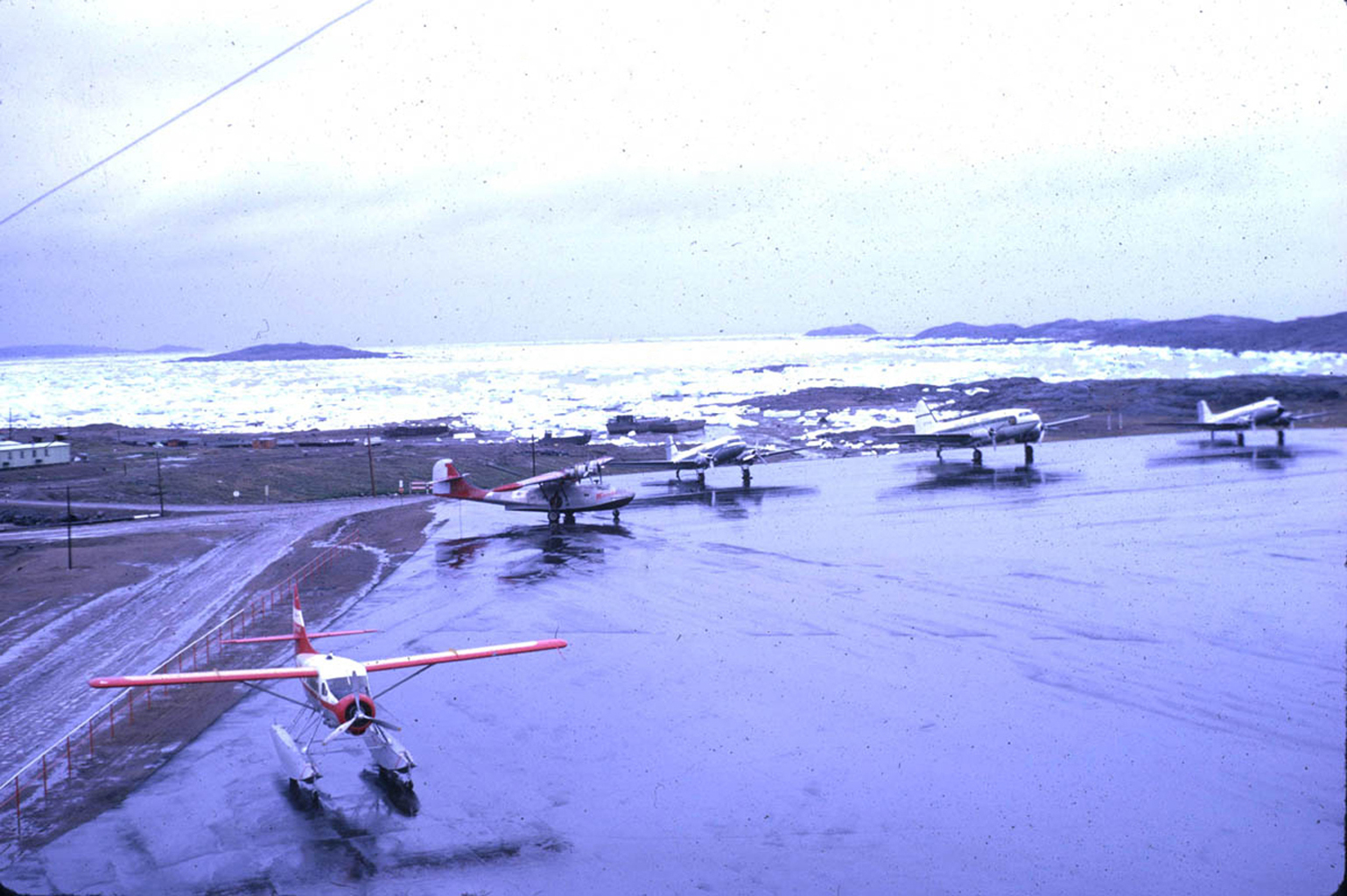 The view from Frobisher Tower, August 1962. No, not a misprint, August 1962!
Check out the aircraft types on the ramp, Otter, Canso, C-47, C-46 and C-47.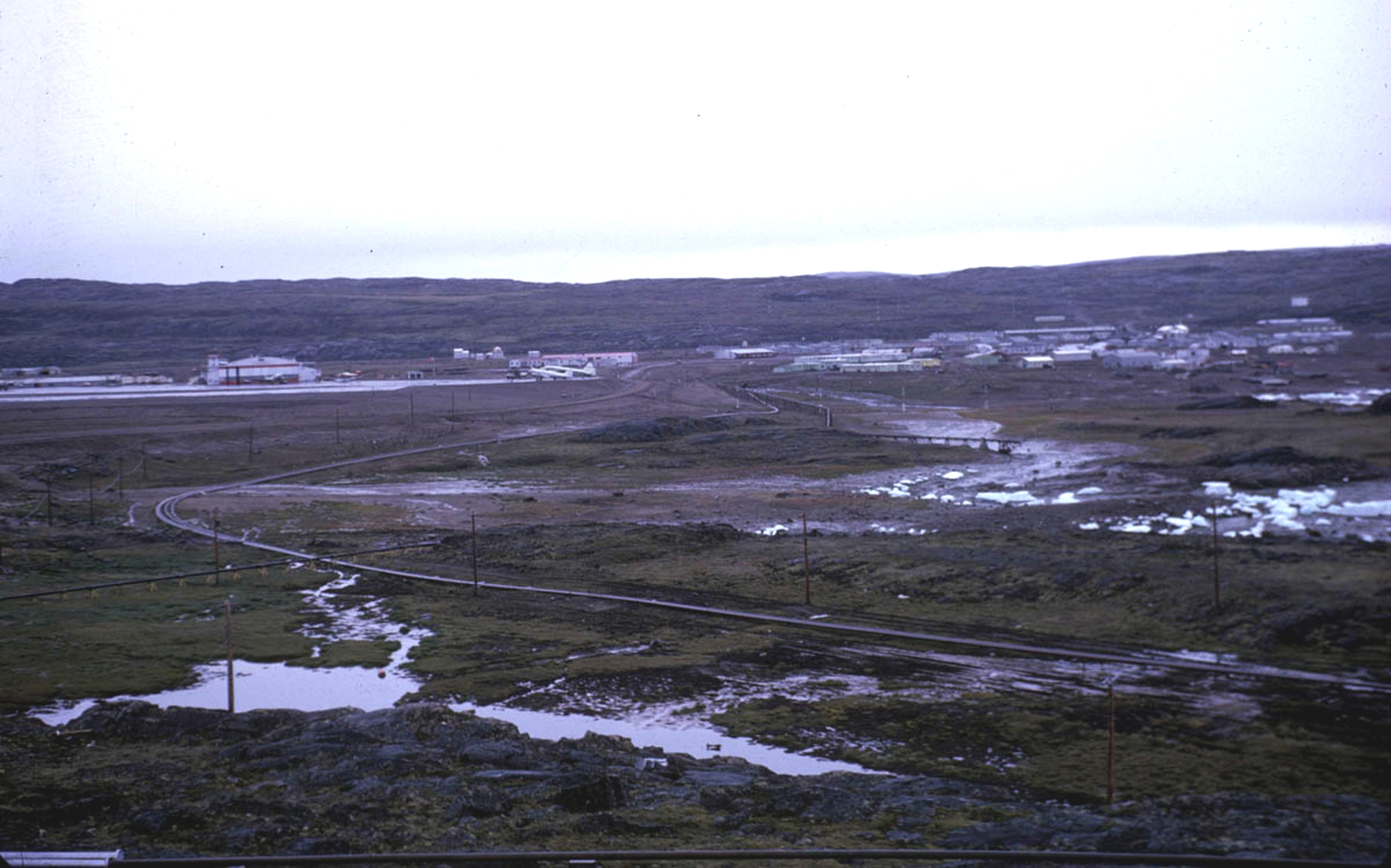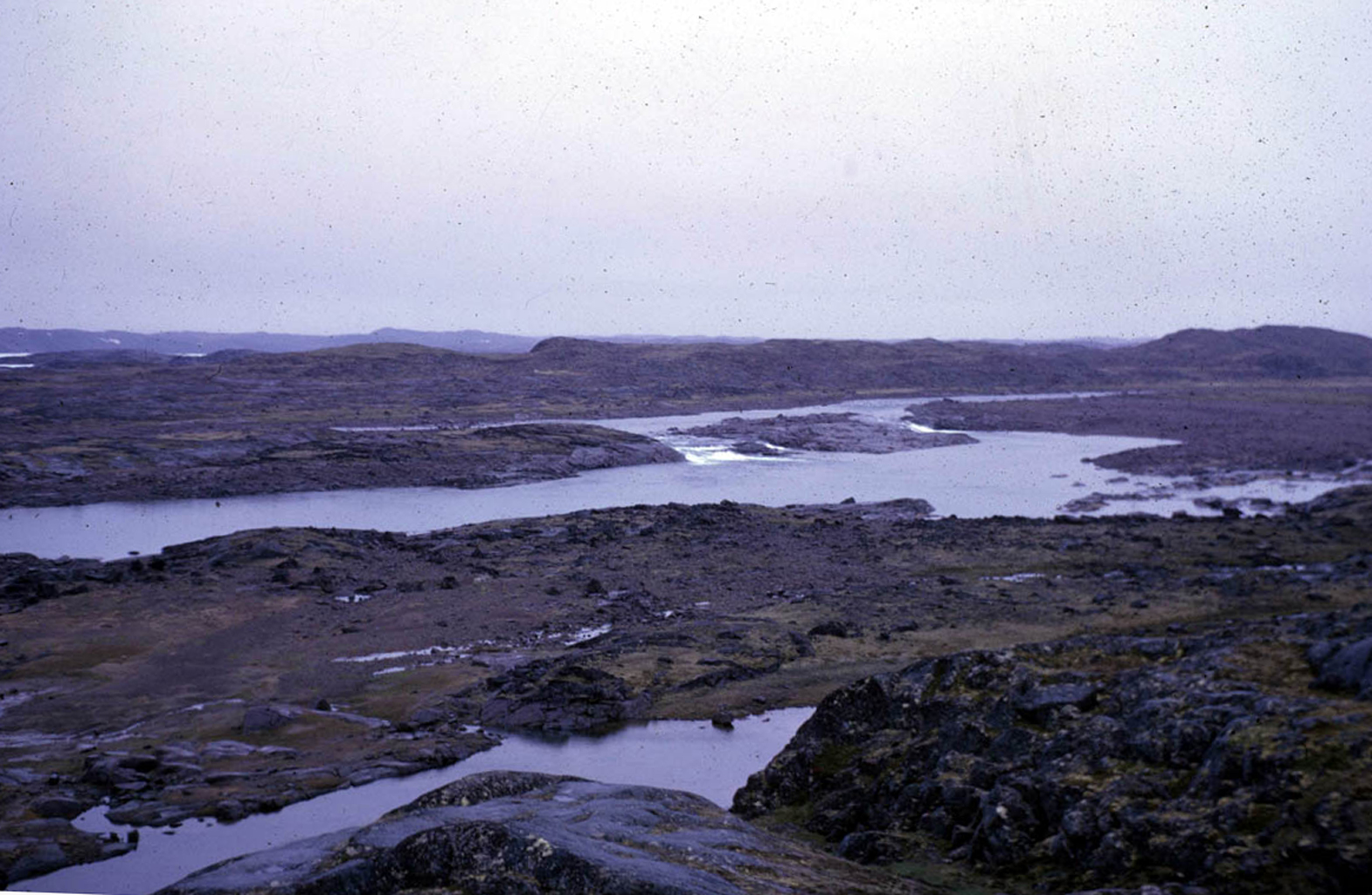 Frobisher airport and control tower are in the distance on the left in this photo.
The picure on the right show the rather stark landscape surrounding the small community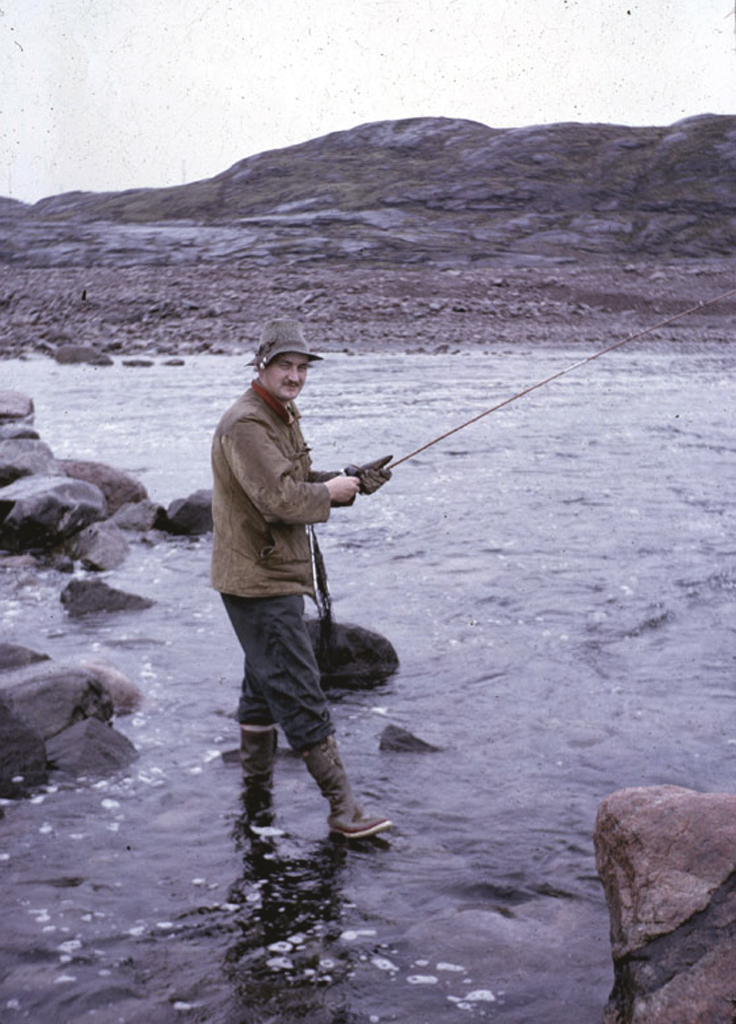 1962(R) Correction. The intrepid fisherman in this photo is not Ron Hay, it's Ivan Delong - but there is a connection!
In Ron Hay's own words: ...Ken Vryenhoek who pointed out the error. The fellow fishing in Frobisher is not me. It's Ivan Delong, a chap who trained on Harvards with me in Gimli Manitoba. After he finished his short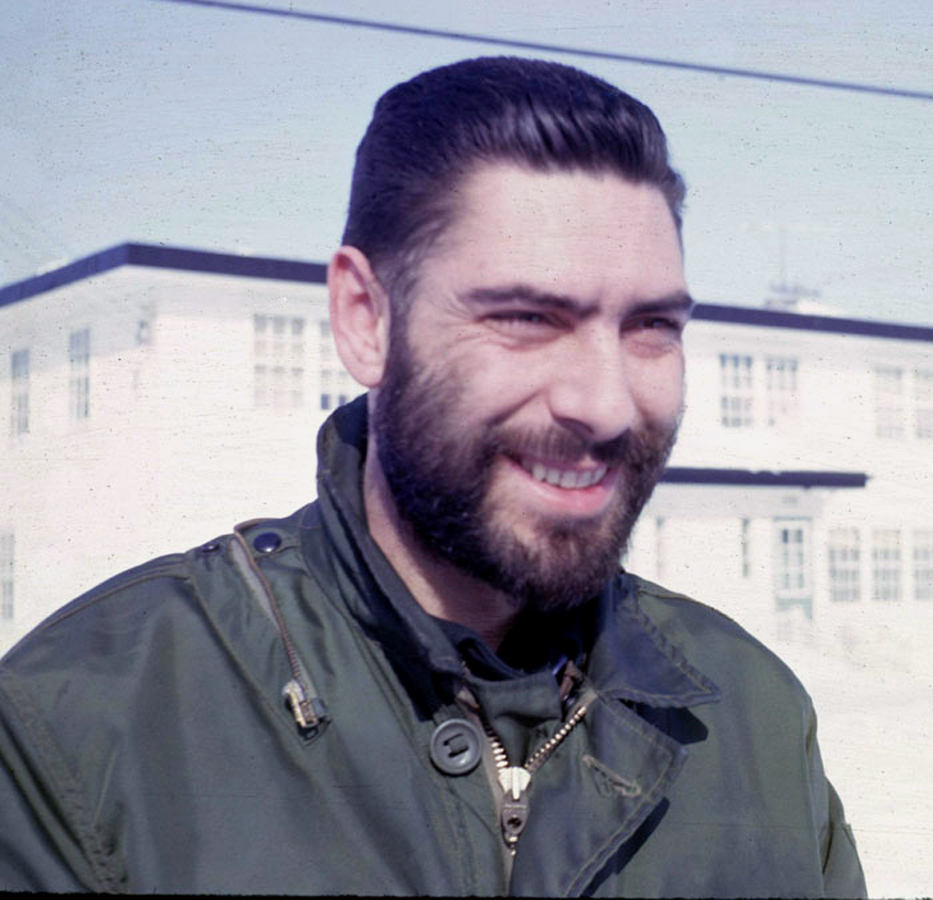 service commission he got a job with Maritime Central Airways flying that C46 that we could see from Frob tower. I bummed a ride with Ivan up to Frobisher and back to YYR. (ed. note, I like this story and the picture was taken near Frobisher!)
On the right, the "real" Ron Hay in 1963 in Goose Bay. He lost the Winter Festival beard growing competition, he couldn't come close to Bob Wonacott when it came to growing hair.
---

---
- Goose Bay -
There is a wealth of information on the 'net about Goose Bay. What follows is a brief description. Links to interesting Goose Bay reading are located end of this page. (ed.)

CFB Goose Bay traces its roots to the Second World War. Canada built several strategic bases in Newfoundland and Labrador, for the protection of North America from attack on its northeastern flank, and in the case of Goose Bay, to act as a staging point in the north-eastern air route across the Atlantic via Greenland, Iceland, and the British Isles. In the summer of 1941, an RCAF survey team determined a suitable location for an air base. Construction soon followed the initial surveys and three (3) 7,000 foot runways were opened on Nov 16, 1941. The first military aircraft landed on Dec 9. At this time, over 3,000 RCAF personnel were assigned to RCAF Station Goose Bay.
... In November 1954, a new air defence radar station was opened nearby. The USAF Melville Radar Station was operated as part of the Pinetree Line. Beginning in 1957, Goose Bay began to support the USAF's Strategic Air Command (using the 4082 Strategic Wing). At this time, there were over 3,300 military and 700 civilians assigned to the U.S. side of the base. Goose Bay soon began to see B-47 bombers and KC-97 aerial refuelling tankers, followed by KC-135 tankers in 1960. It was also during the 1960s that Goose Bay began to see B-52 bombers. Goose Bay also took over many of the functions provided by Ernest Harmon AFB in Stephenville which closed in 1966. Throughout the 1950s and 1960s, Goose Bay and Happy Valley was home to over 12,000 USAF, RCAF and DoT personnel and their families.

---
At Work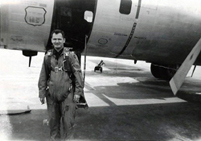 << Eric Staples ATC - Goosebay Labrador, 1958 before departure on refuelling mission over the Gulf of St. Lawrence.
Eric Staples ATC - on ramp in Goosebay Labrador, 1958 >>
Photos and text courtesy Brenda Staples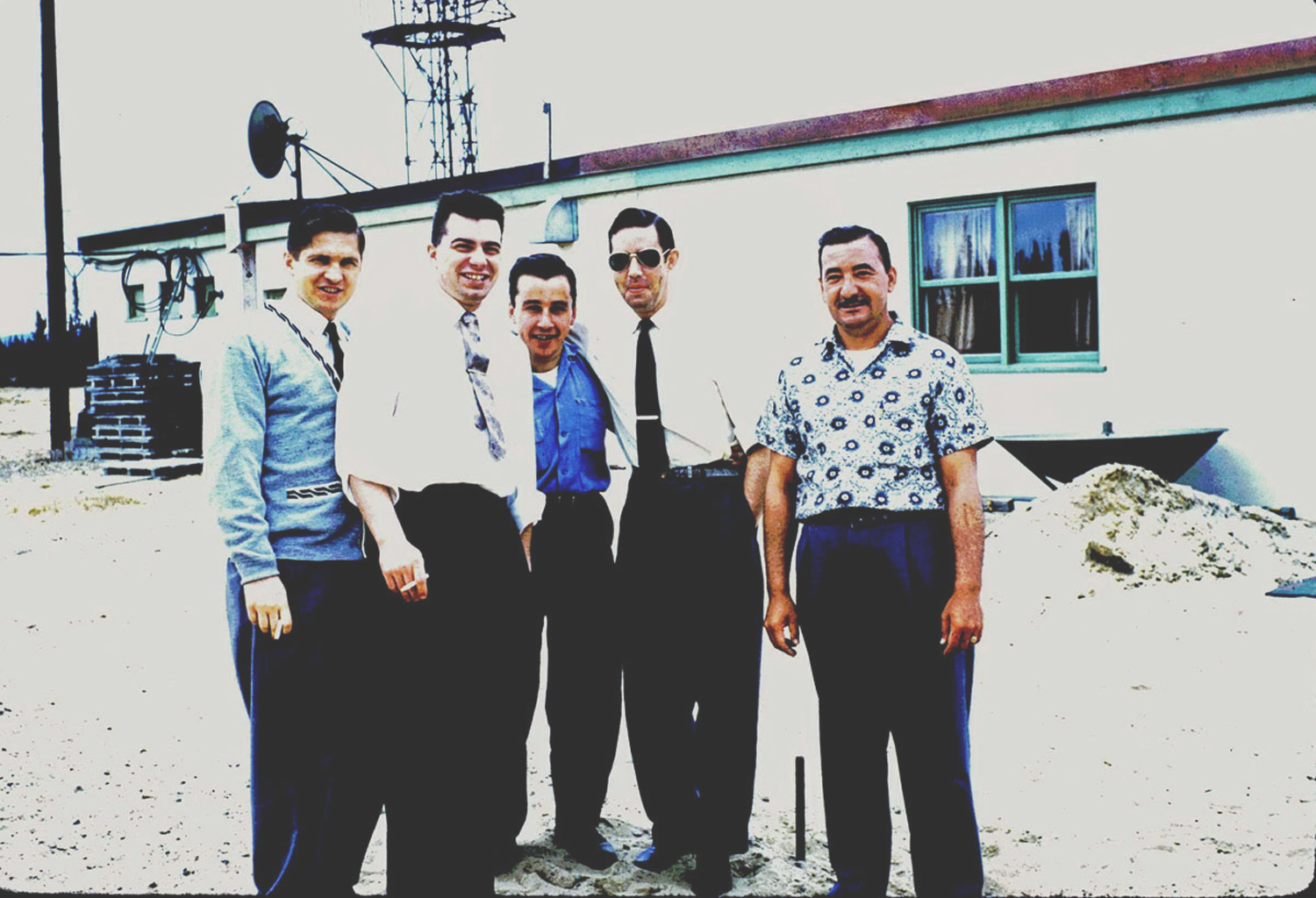 Summer 1961 L to R: Joe Kovalenko (YC), Ken Vryenhoek (VR), Tony "Tweet" Blake, Jim Henderson (YC), George Allard (UL).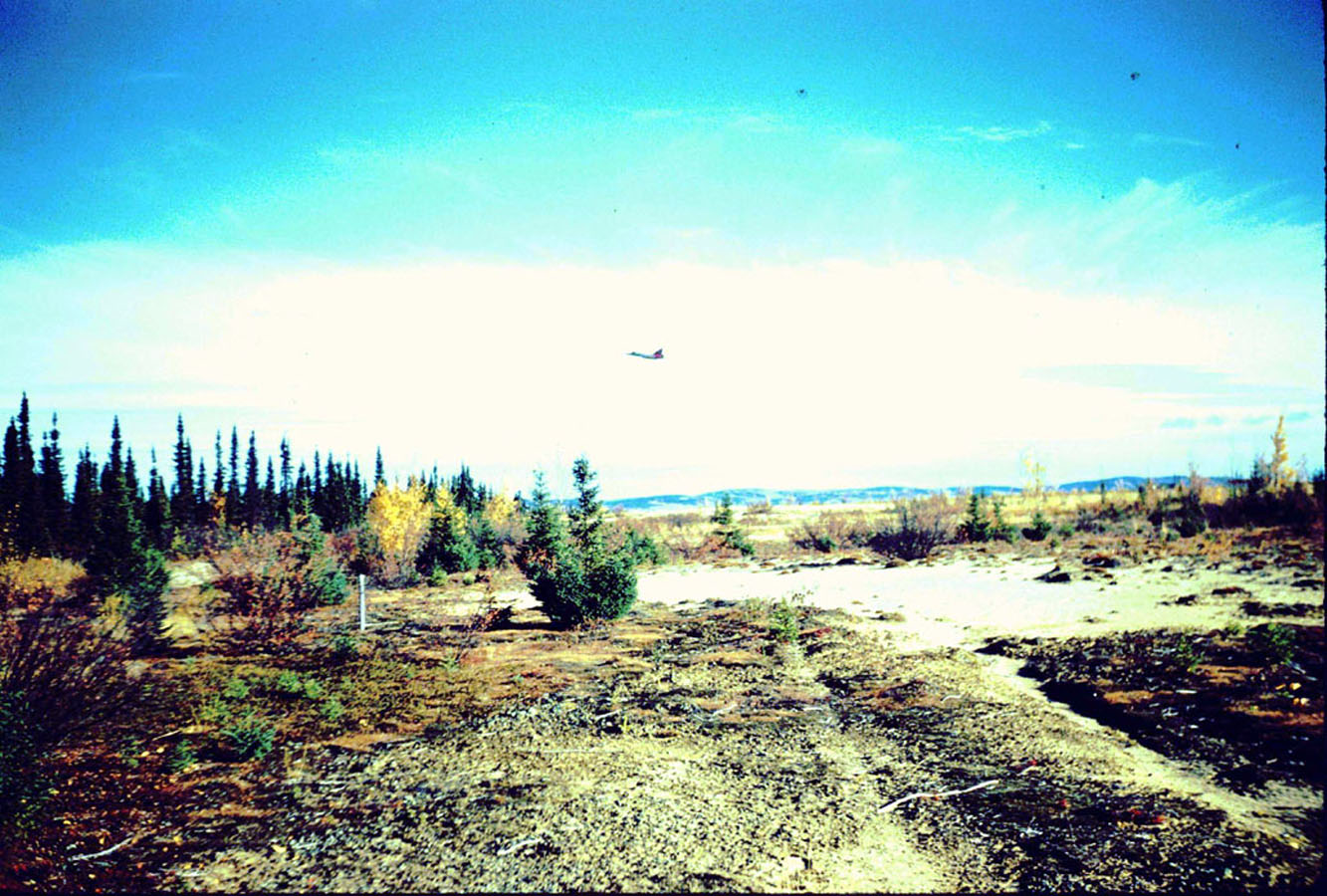 1961(L) US F-102 "Delta Dagger" taking off in the distance.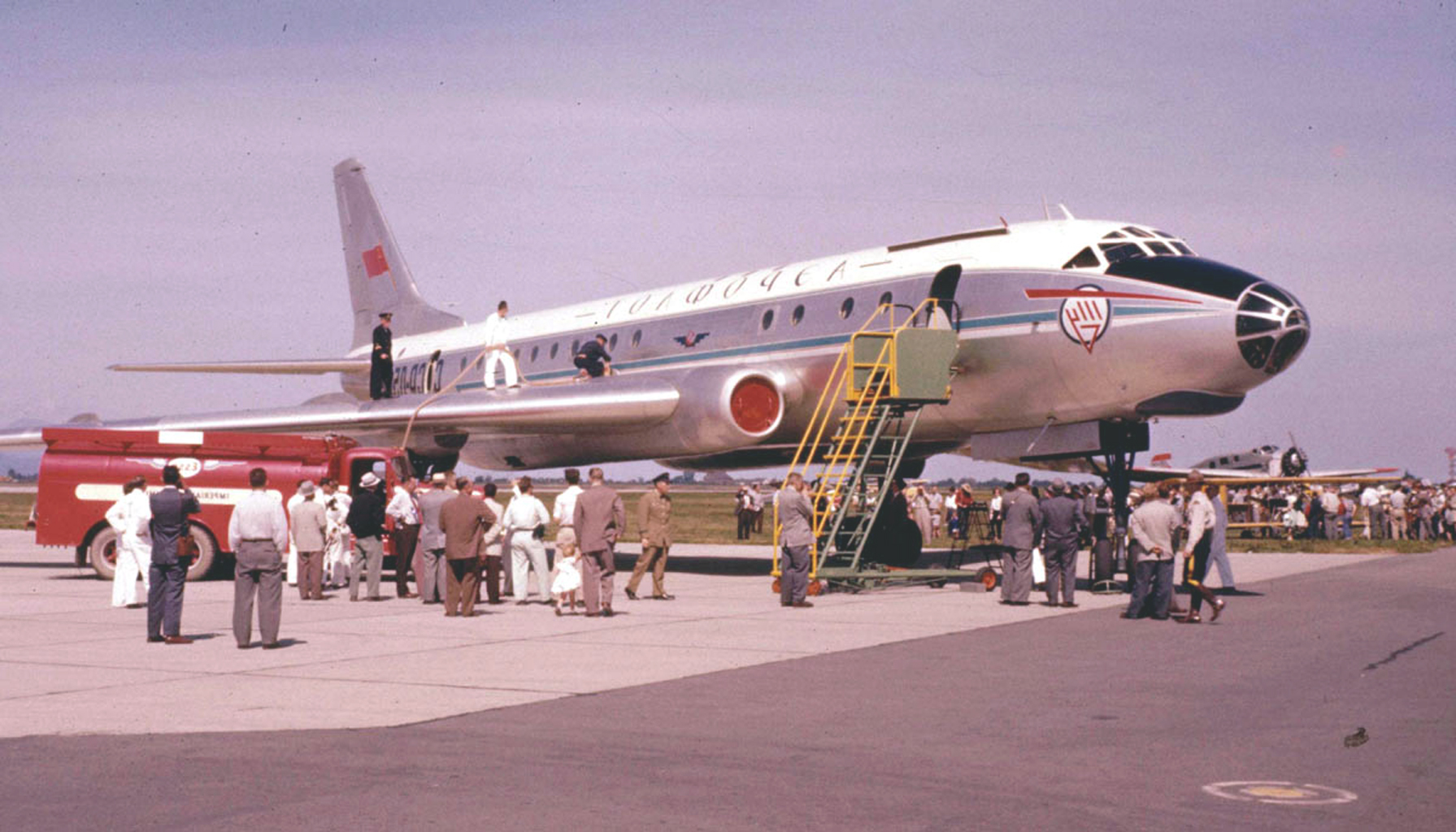 1961(R) Russian Tupolev at Goose enroute to Cuba in 1961. Must have been an interesting experience. The American embargo against Cuba began on Feb 7, 1962 otherwise I'm pretty sure this picture wouldn't have happened!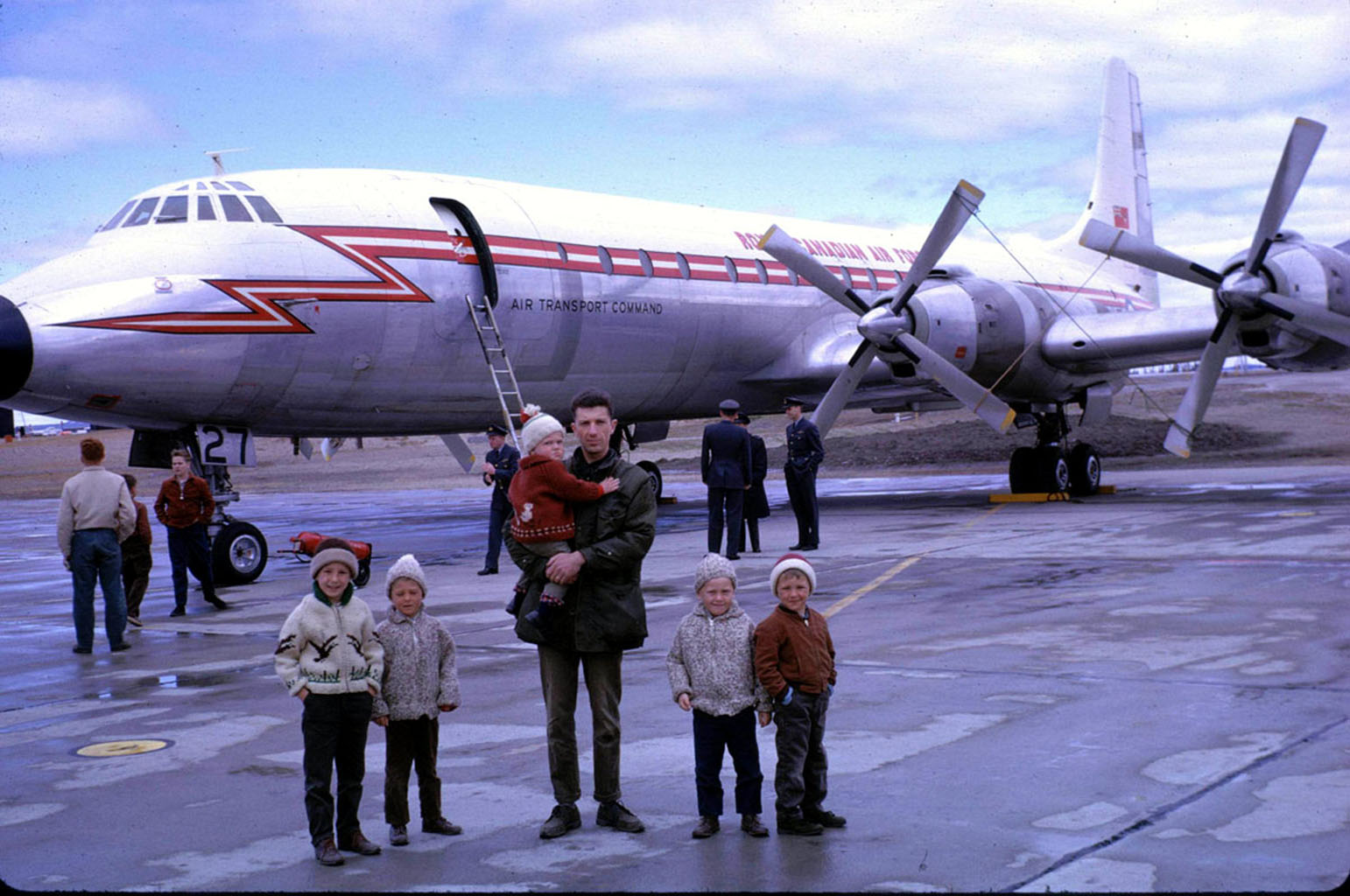 1963(L) Barney Sharp (VR) and his sons standing in front of a Canadian Air Force CC- 66 (CL-44) Yukon.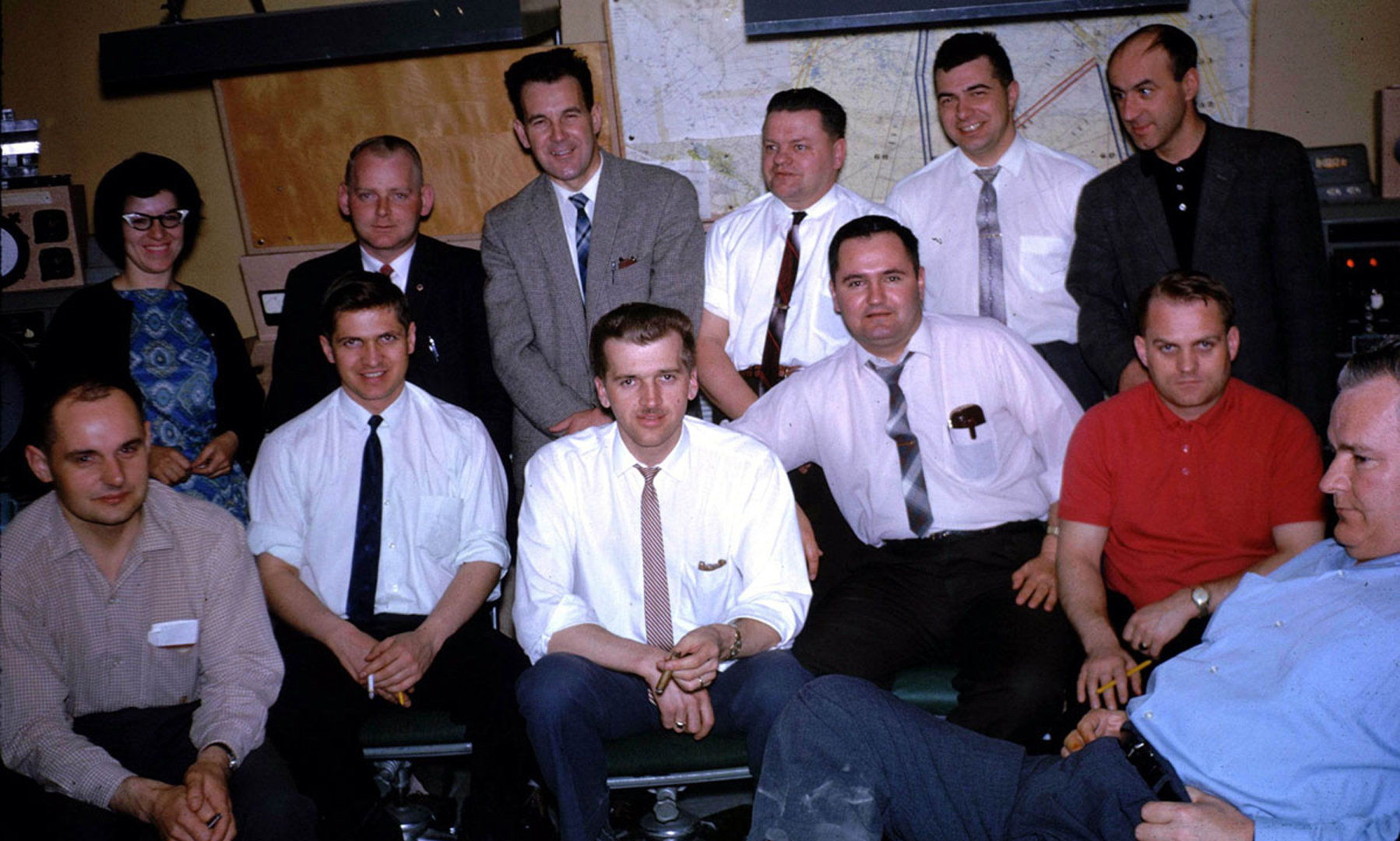 Summer 1963, a Goose Bay ATC staff picture. Ron Hay provides the names:
Front row - L to R: Phil Bergenham (VR), Joe Kovalenko (EG), Elmer Tomecek (WG), Eric Staples supervisor(QM), Len Kalicheck (EG), "Doc" Elliot (UL)
Back row, left to right; our secretary Alberta Vautour, George Machum (QM) Chief, Irv Simmons, supervisor (QX), Sid Bowers (QM), Ken Vryenhoek (VR) and Henry Boduc (UL).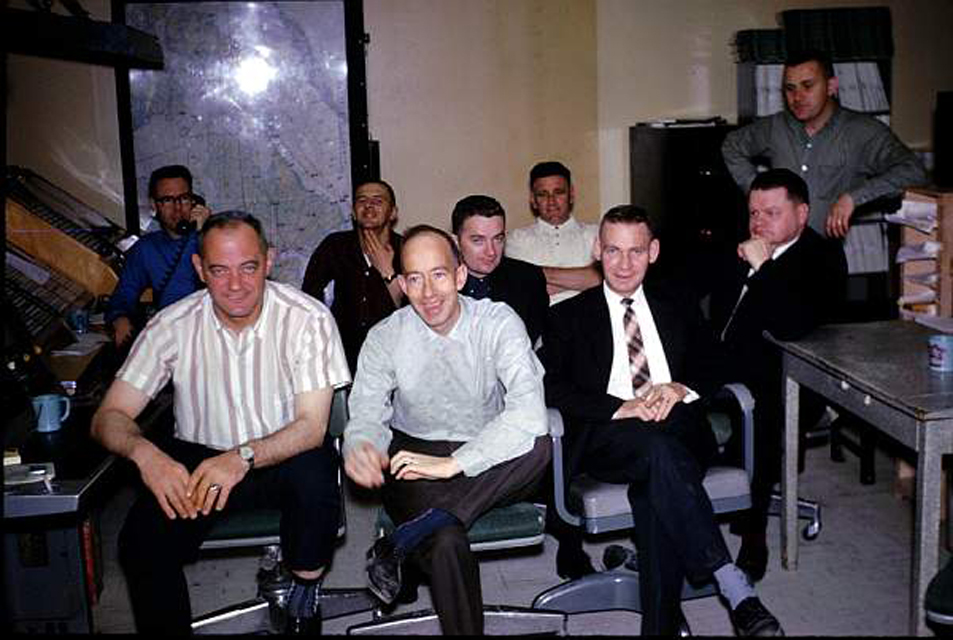 1964 Front Row, L to R: Moe Cantwell (OW), Bryce Hart(VR), Sandy Sanderson (UL), Sid Bowers (QM)
Back Row, L to R: Doug Ellis (YC), Hori Hale (QX or QM), Bob Wonnacott (WG), George Champagne (UL), John Mason (OW)
At Play errr, ahhh... Social Life
1962(L) L to R at the Officer's Mess; Joan Hay, Helen and Moe Cantwell, Elaine and Al Ranger.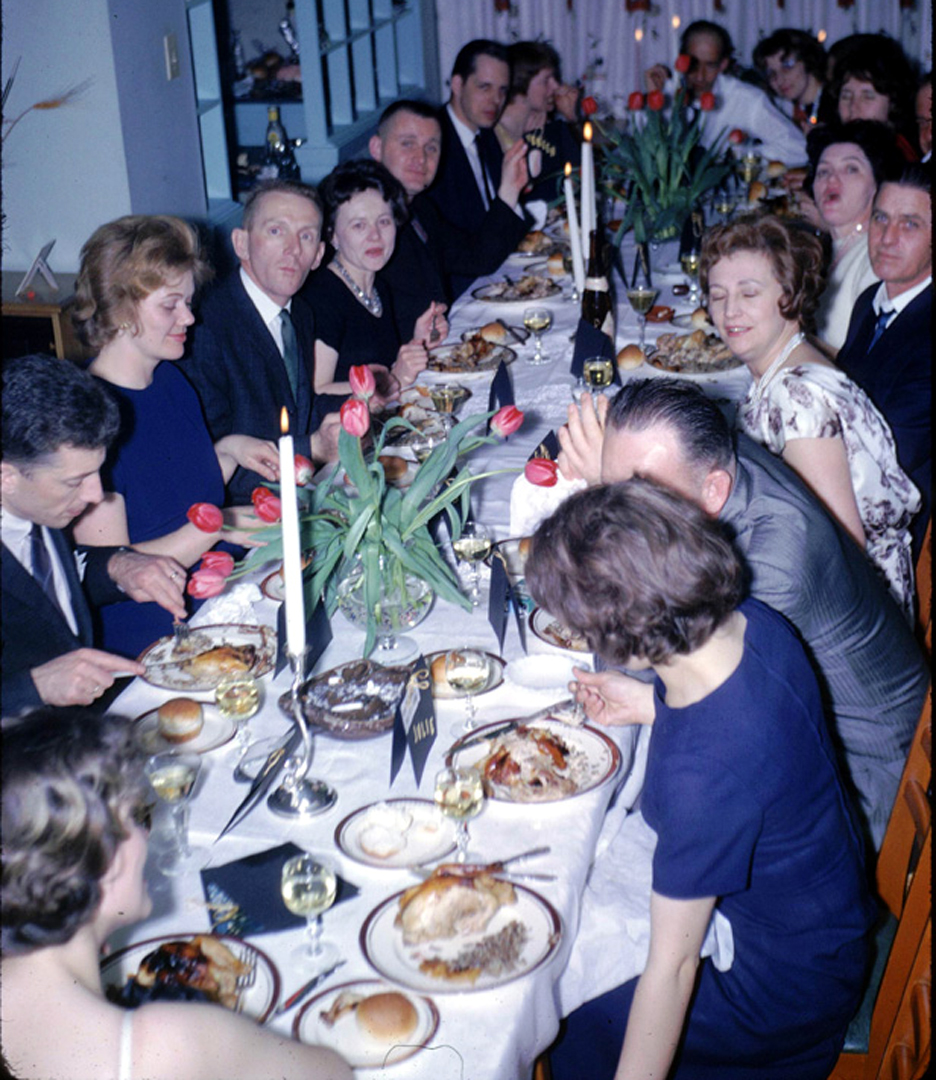 1964(R) A progressive dinner party which featured a separate course in each home. Ron Ha; Notice the fresh flowers! In Goose, that was the height of extravagance. Cornish game hens followed by Crème Brule, I recall.
(ed. note: presumably a designated driver or two was provided after the last course was served...)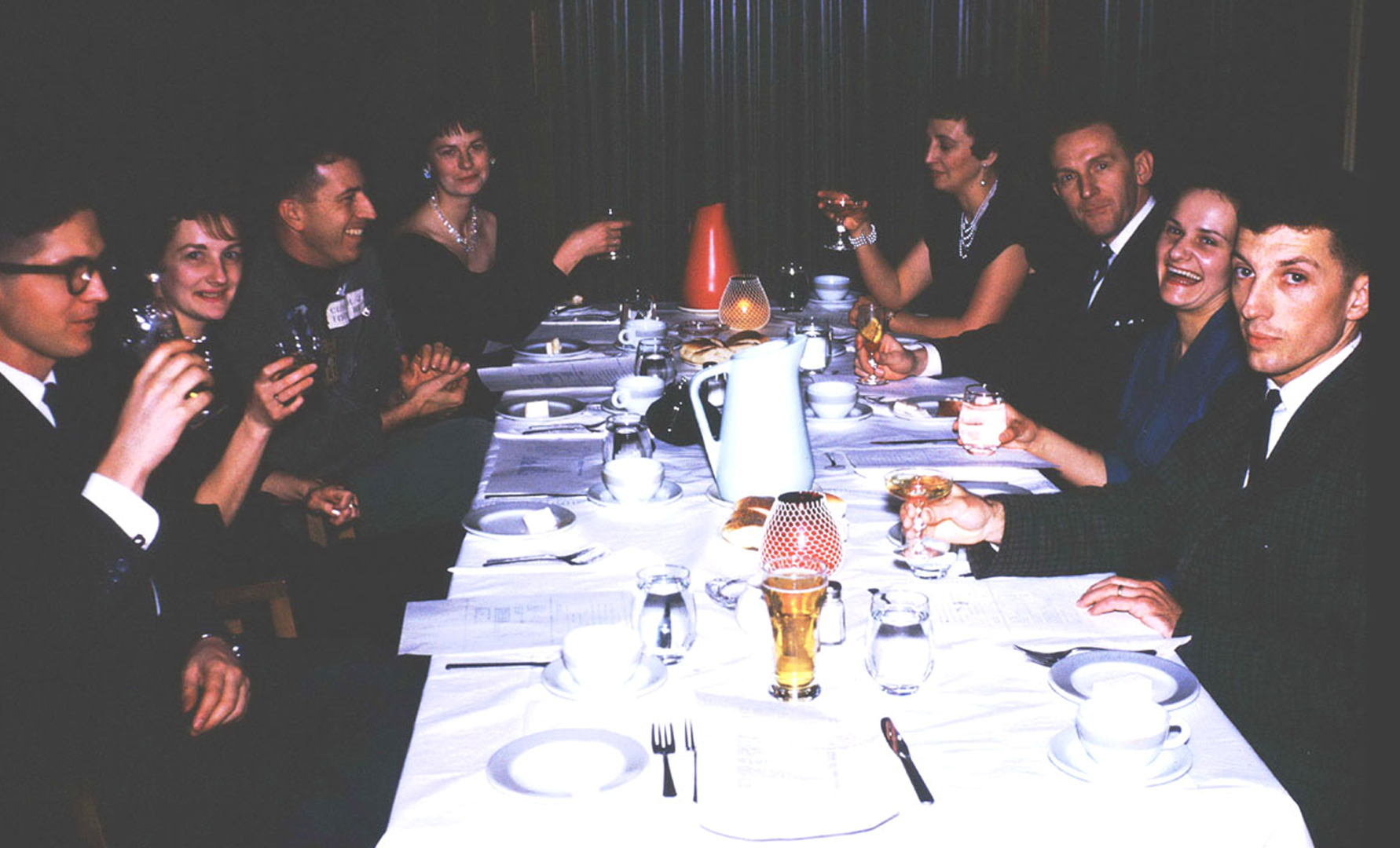 1962(L) Another party at the USAF Officer's Club.
Starting on the left is Joe Kovalenko, Joan Hay, Jeff(KC-97 pilot), Doreen Sharp and across from her, Elaine Ranger, Al Ranger, Julie Kovalenko and Barney Sharp on the near right.



196?(L) Iain McKeracher, former RAF aircrew, sent this picture taken in 196? at the American Club. That's Ray Landry 2nd from left and Iain is 3rd from left.
Family Life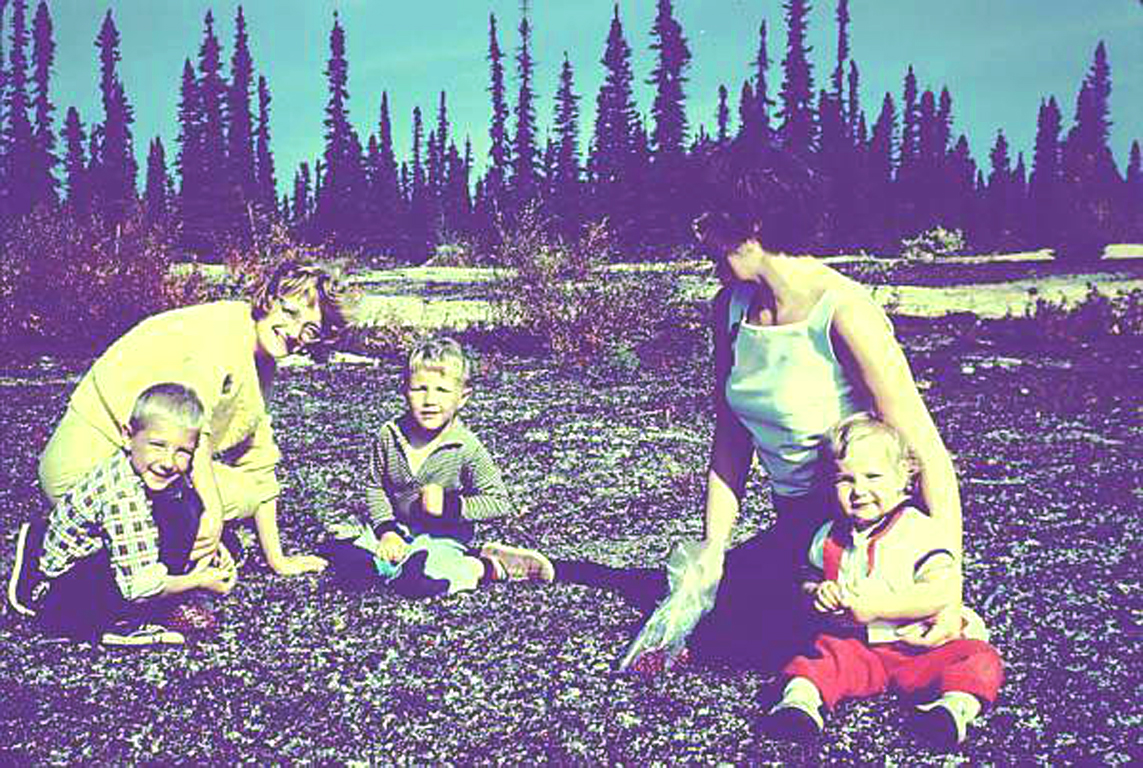 1961(L) Hays and Conways picking cranberries near PMQs.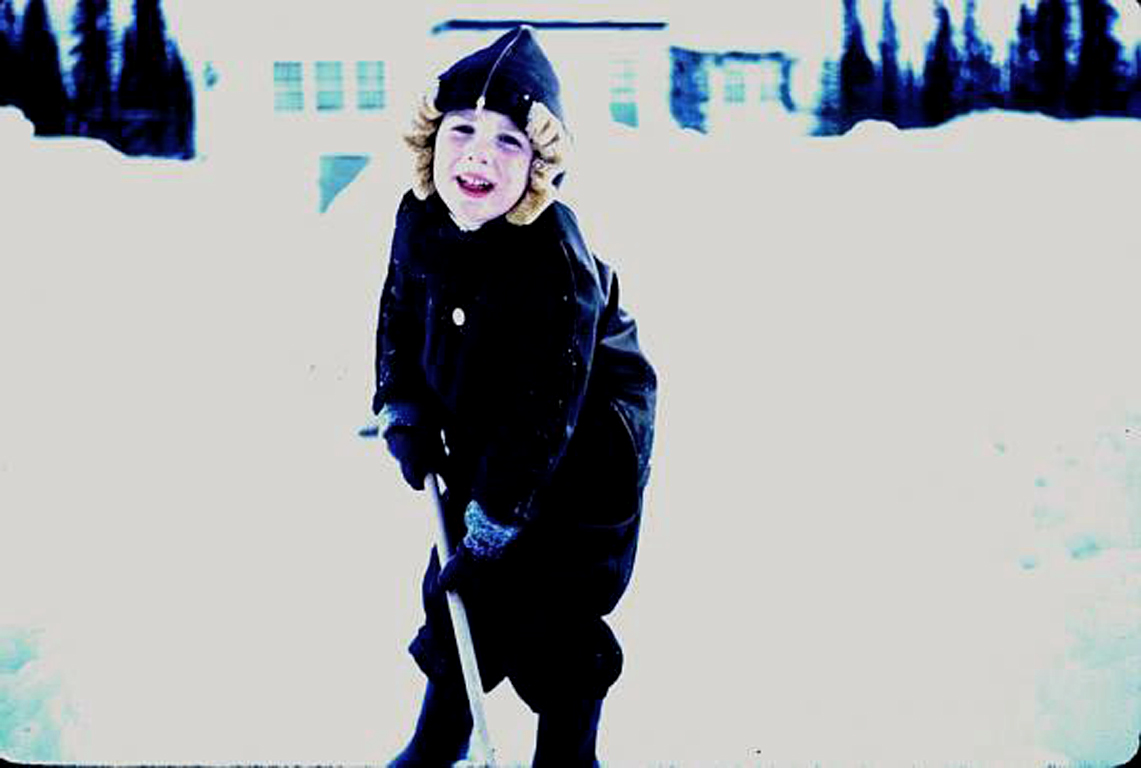 1961(R) Jeffrey Hay liked to help shovel our walkway.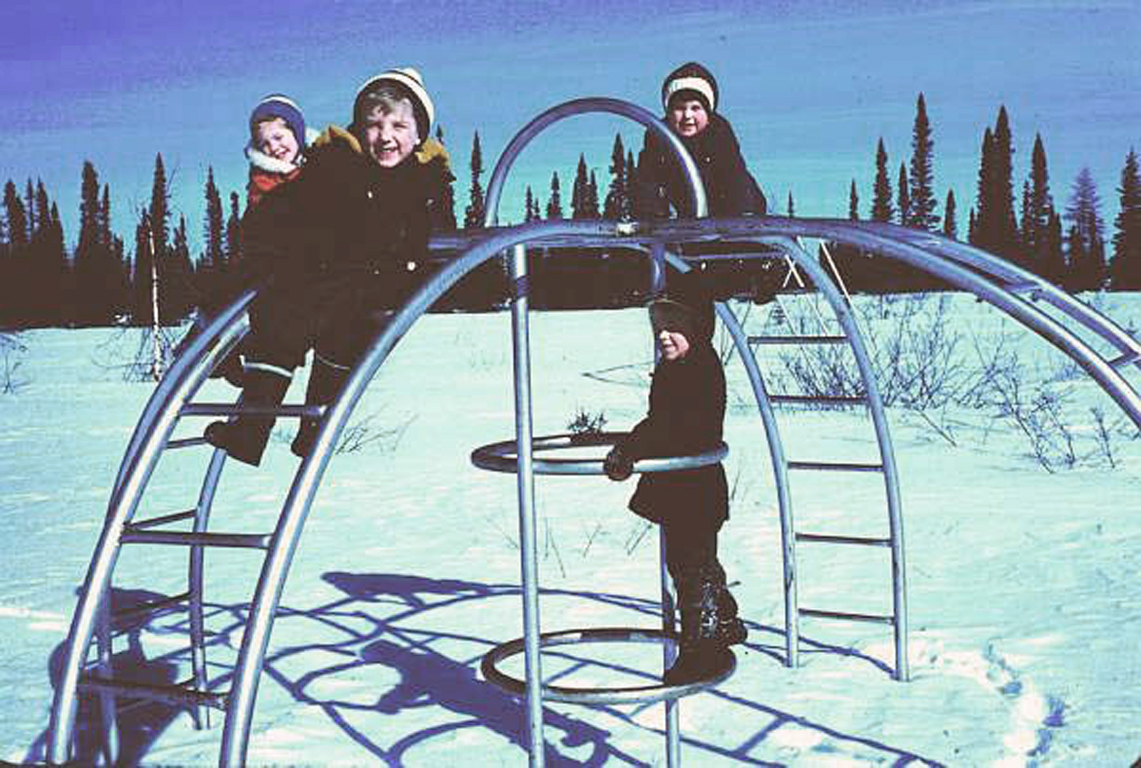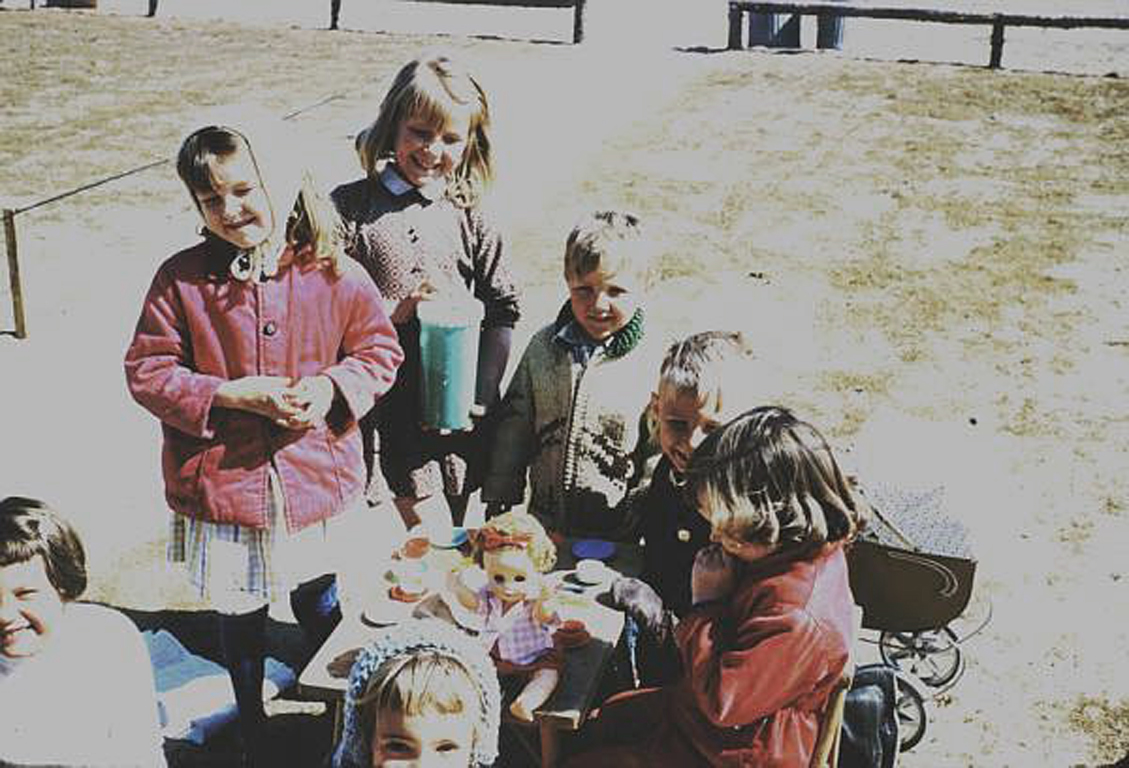 1961(L) Playground in B area of DOT housing.
1961(L) Kids birthday parties were popular.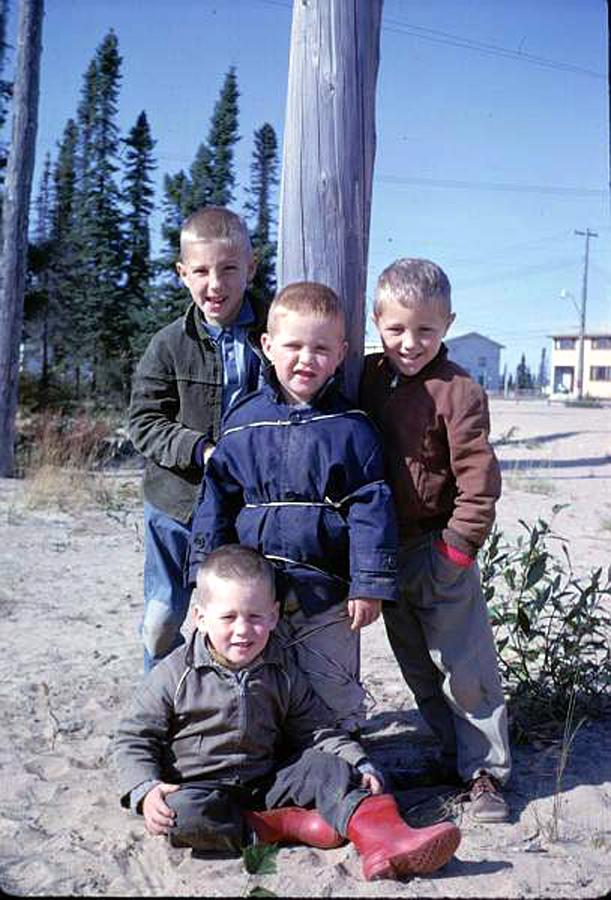 Growing up in the early '60s and in a more remote area was completely different than today. Kids were free to play and wander. Just make sure you're bundled up in the winter and home for supper in winter or summer - the only seasons in Labrador!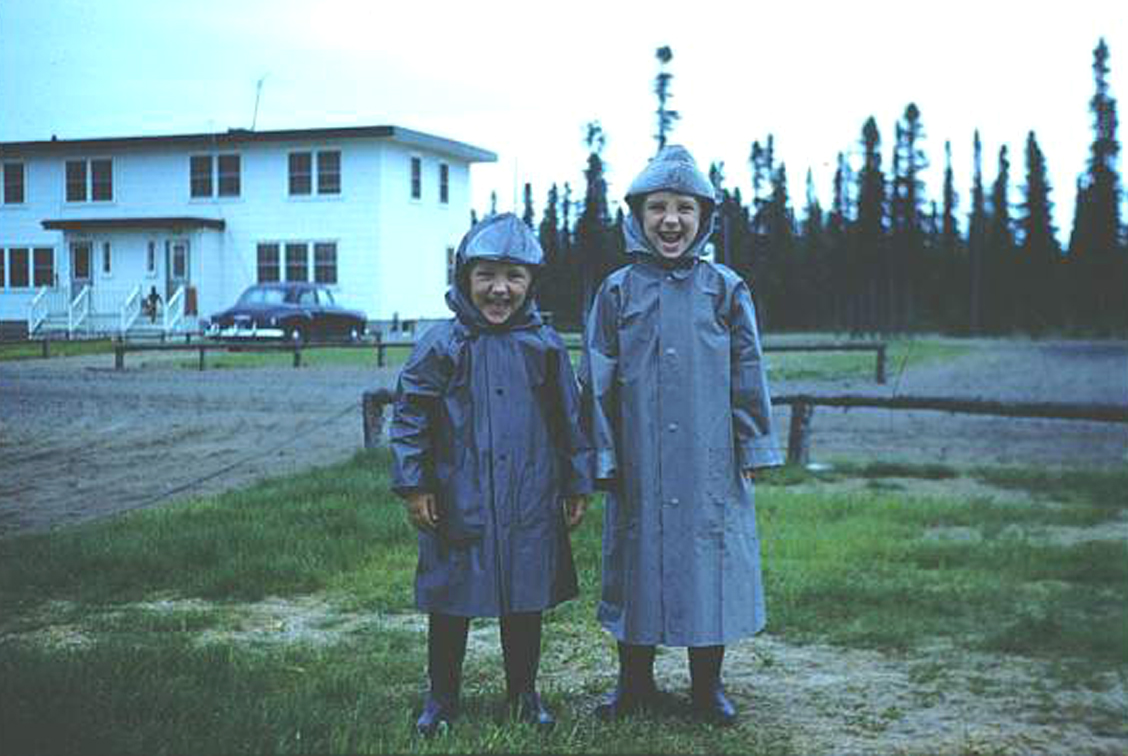 1962(L) The Hay kids - July in Goose Bay.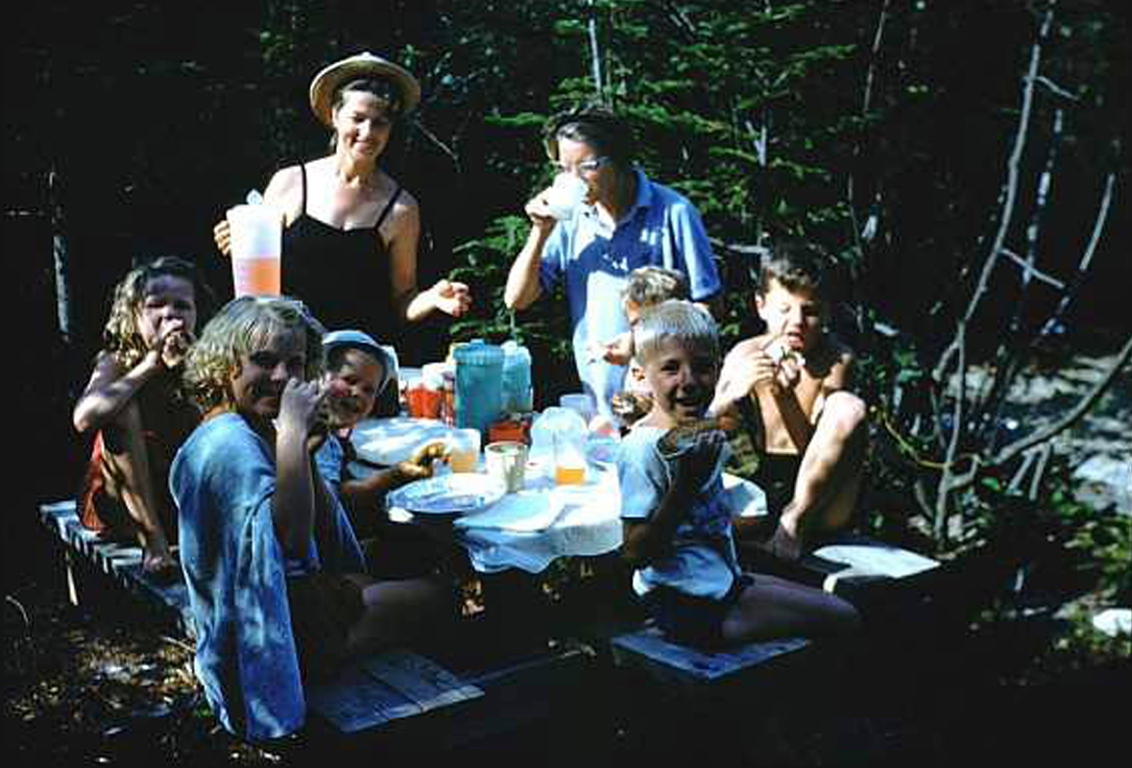 1962(R)The Hays family picnicing with the Pike family from Gander NF.

After work, family life was the focal point of activities. Strong and lasting friendships were established and those memories are likely what we best recall.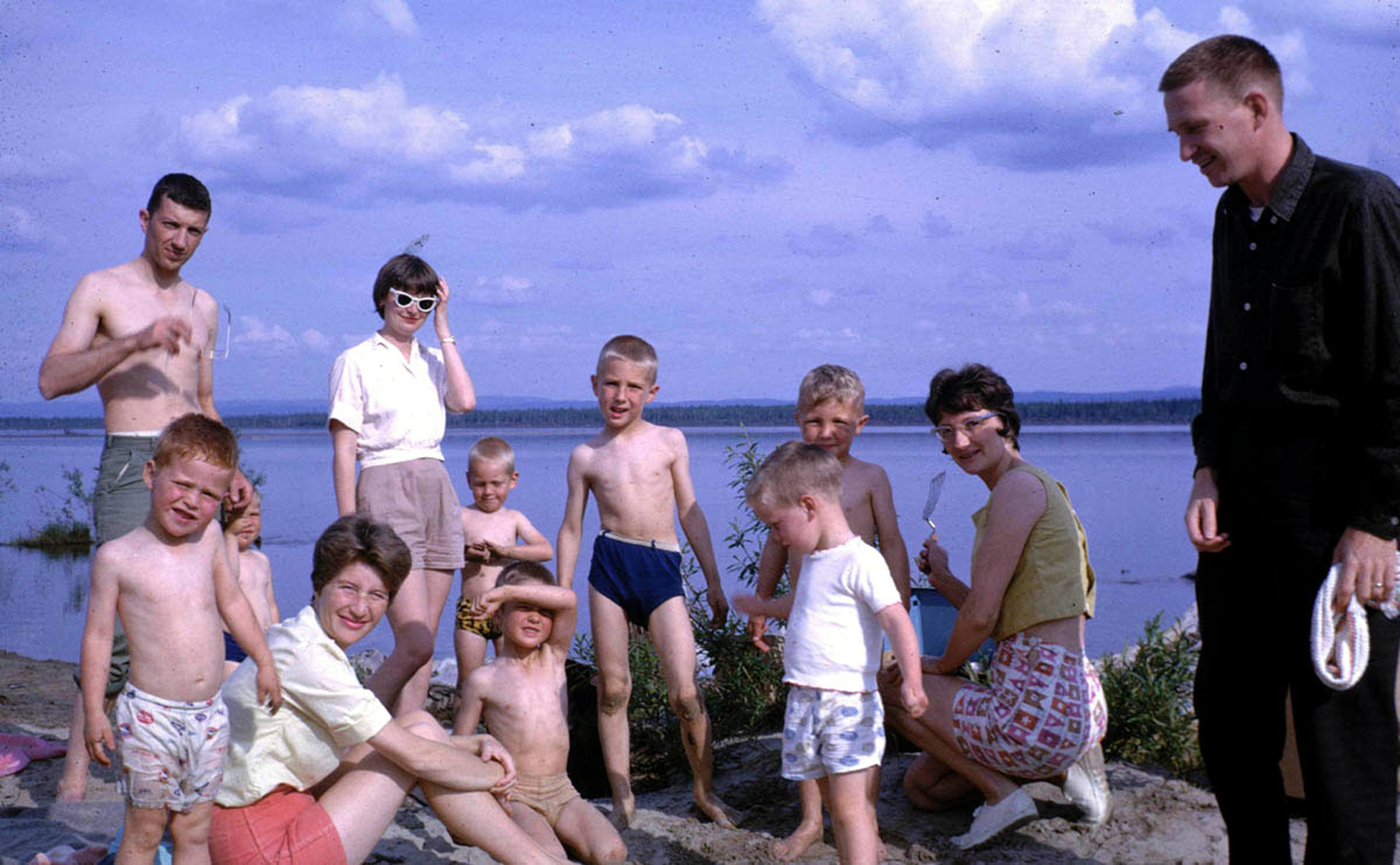 1963(L) Fun at the lake. The adults are: on the right; Jim Paxton, his wife Pat is seated, on the left; Barney Sharp and his wife in the sunglasses, flipping the burgers is Joan Hay.
Town Life
1963 Every community in Canada's farflung "North" had a Bay store. They were as Canadian as Tim Horton's coffee shops are today. But although in the larger cities the Bay has fallen behind to larger retailers and box stores, smaller stores still abound. And for those of us who enjoy the ironies of history, the "Bay Northern Stores" have been replaced by the "Northwest Company"...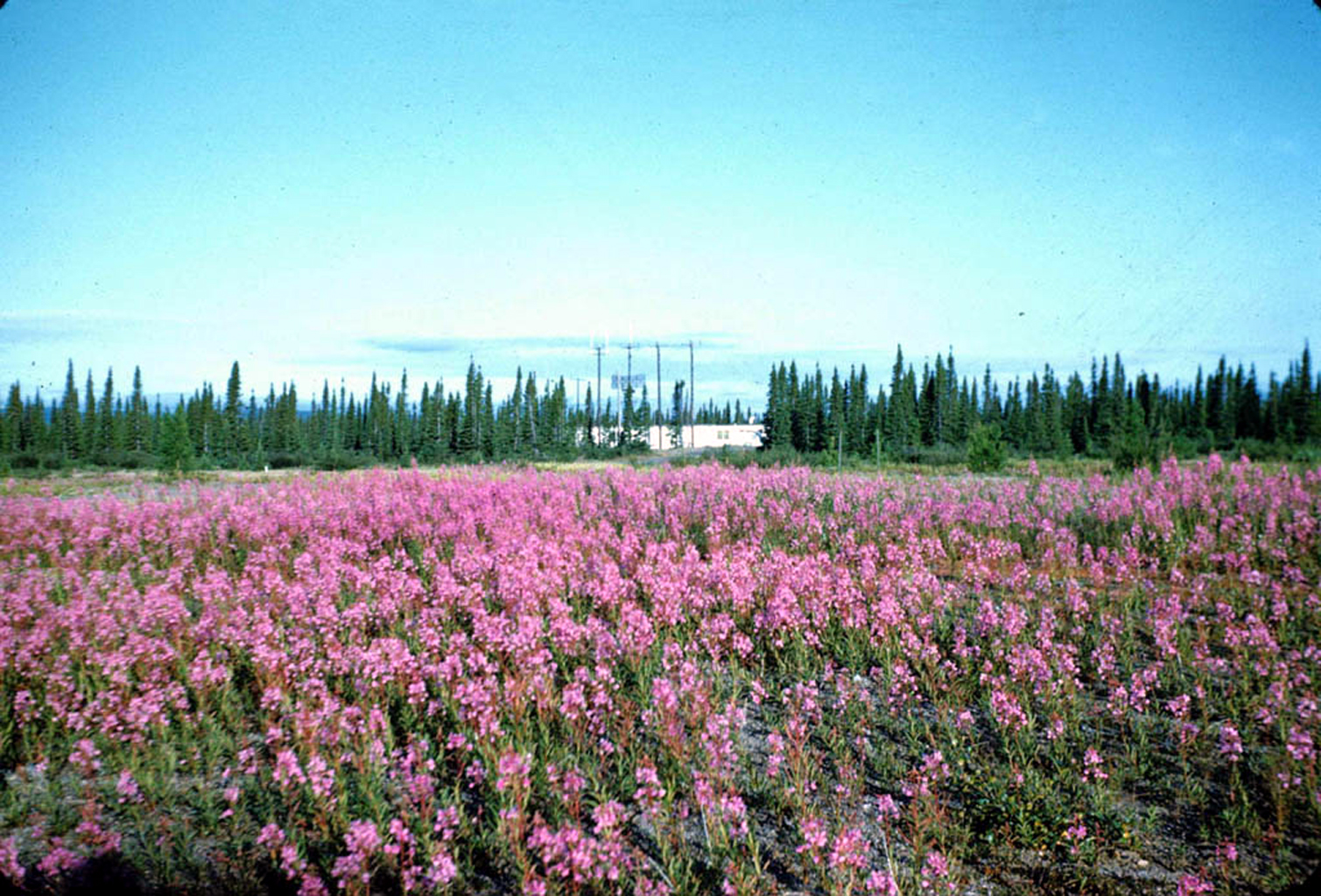 Fireweed in the all too brief summer. It's uncanny, but many of the pictures of Goose Bay, exclusive of the military installation and airport, could be Thompson MB??!!??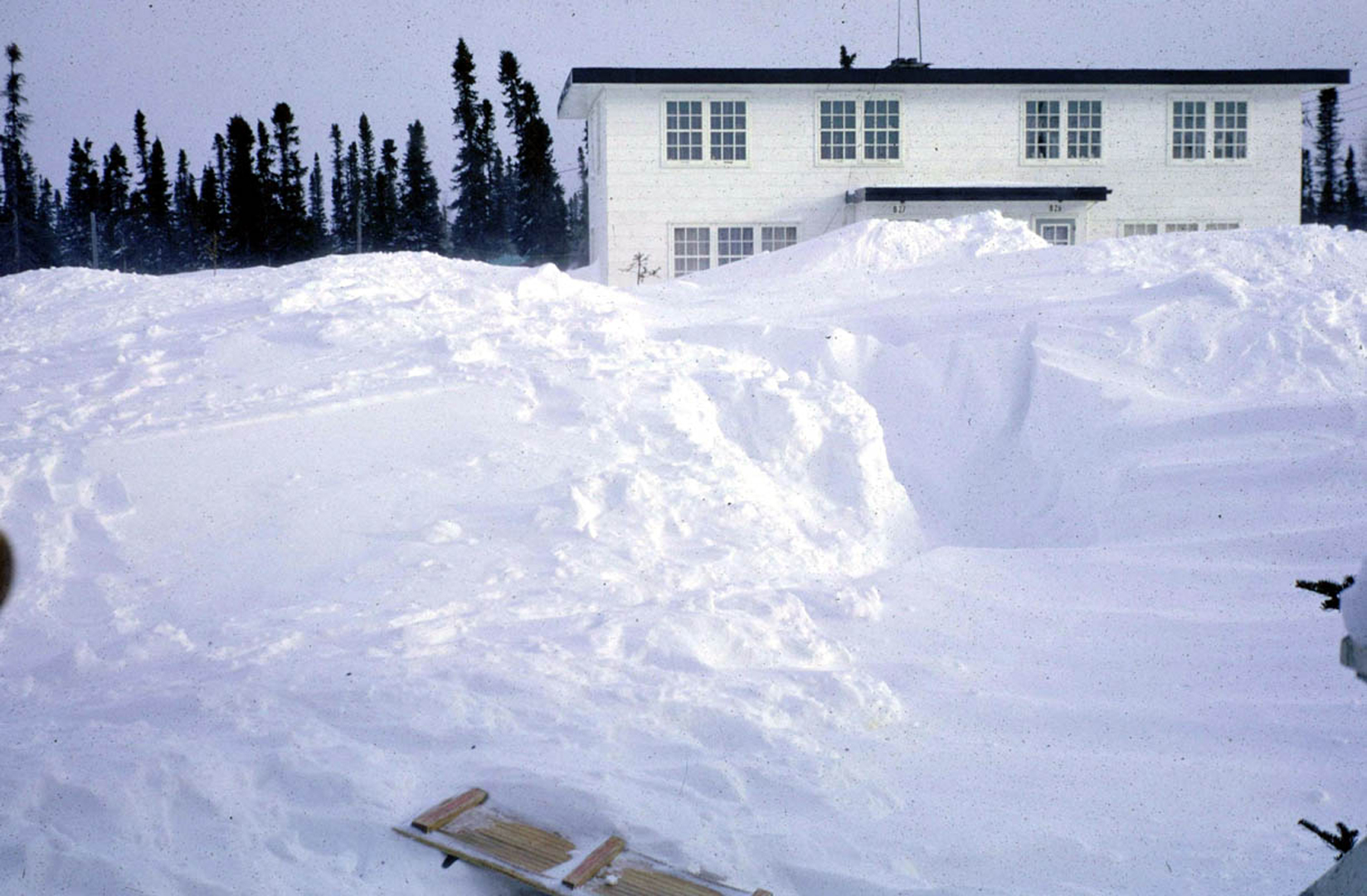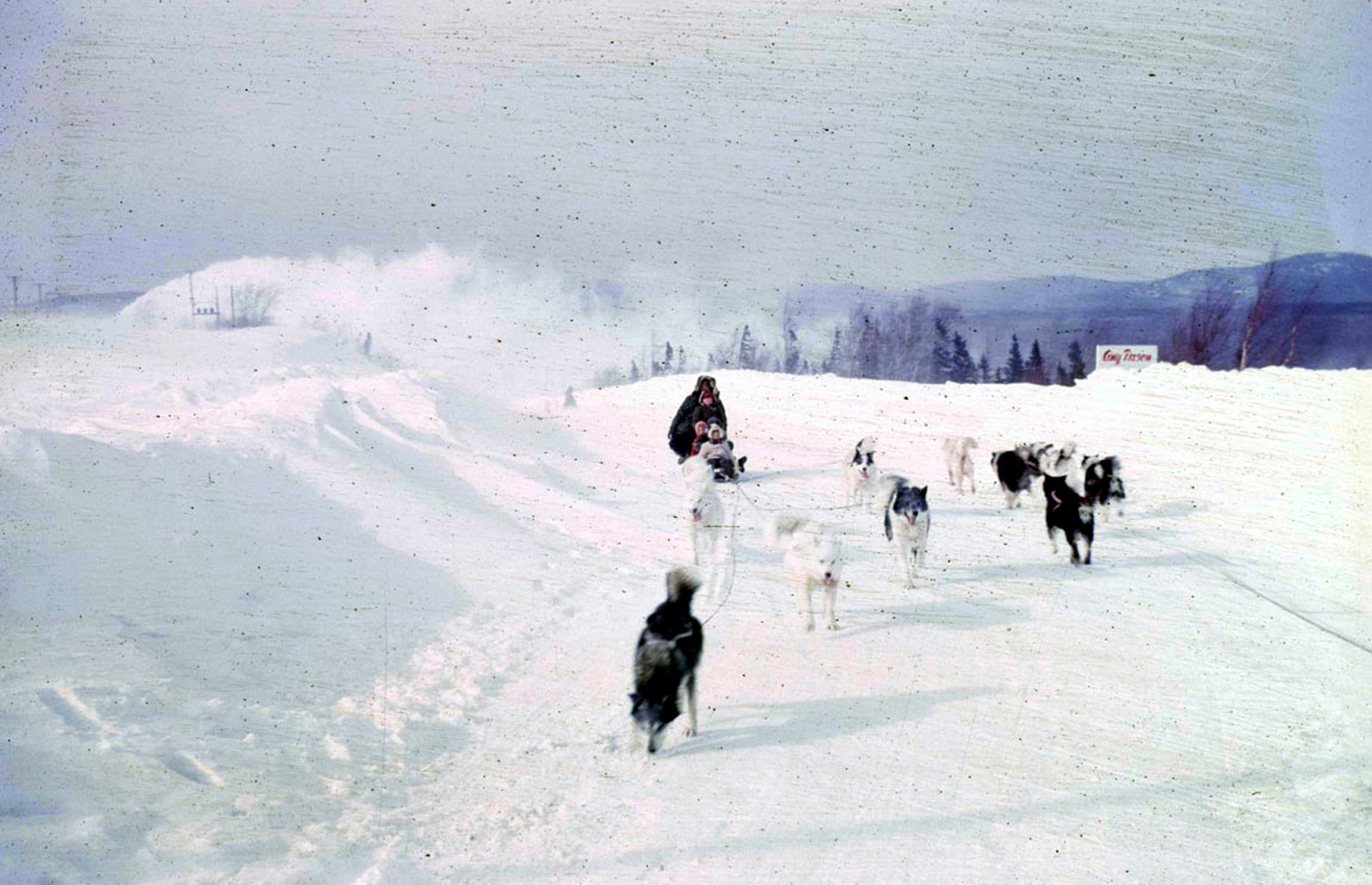 Ah winter, the other season. As much as 200 inches of snow in one winter.

Now, on the right is scene you won't see on Dundas, St.Catherine, Burrard, or even Portage Avenue for that matter. Most winters some of the locals arranged rides on a dog sled and team for the kids and it was immensely popular - I bet!!!
---

---
-- the North --
Good for us that Ron Hay kept his camera handy when he took off (pun intended...) on his adventures. Here is a sampling.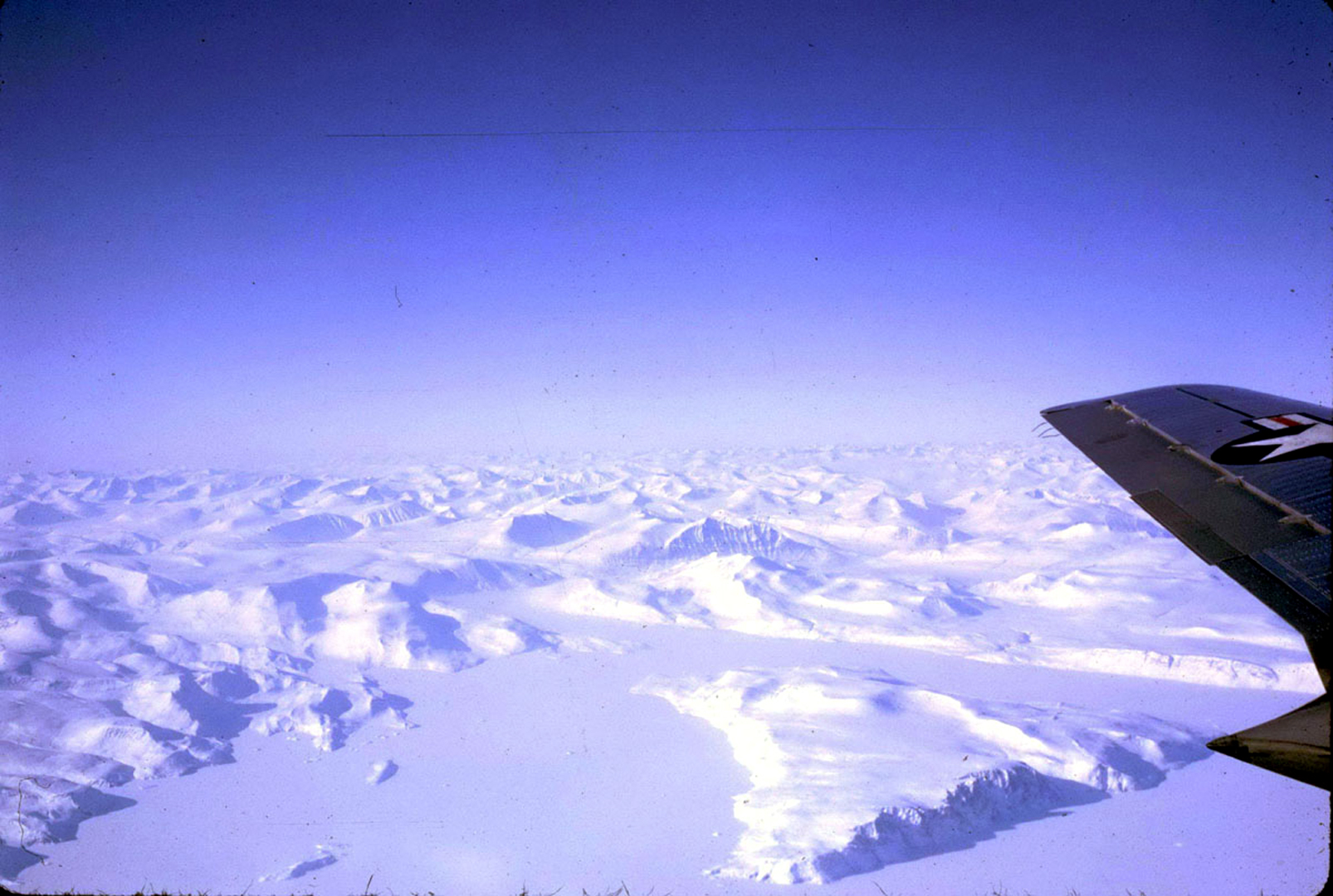 In Ron's words: 1964(L) I took a trip on a KC-97 to Thule Airforce Base(BGTL) and snapped a shot of Baffin Island from 17,000 feet.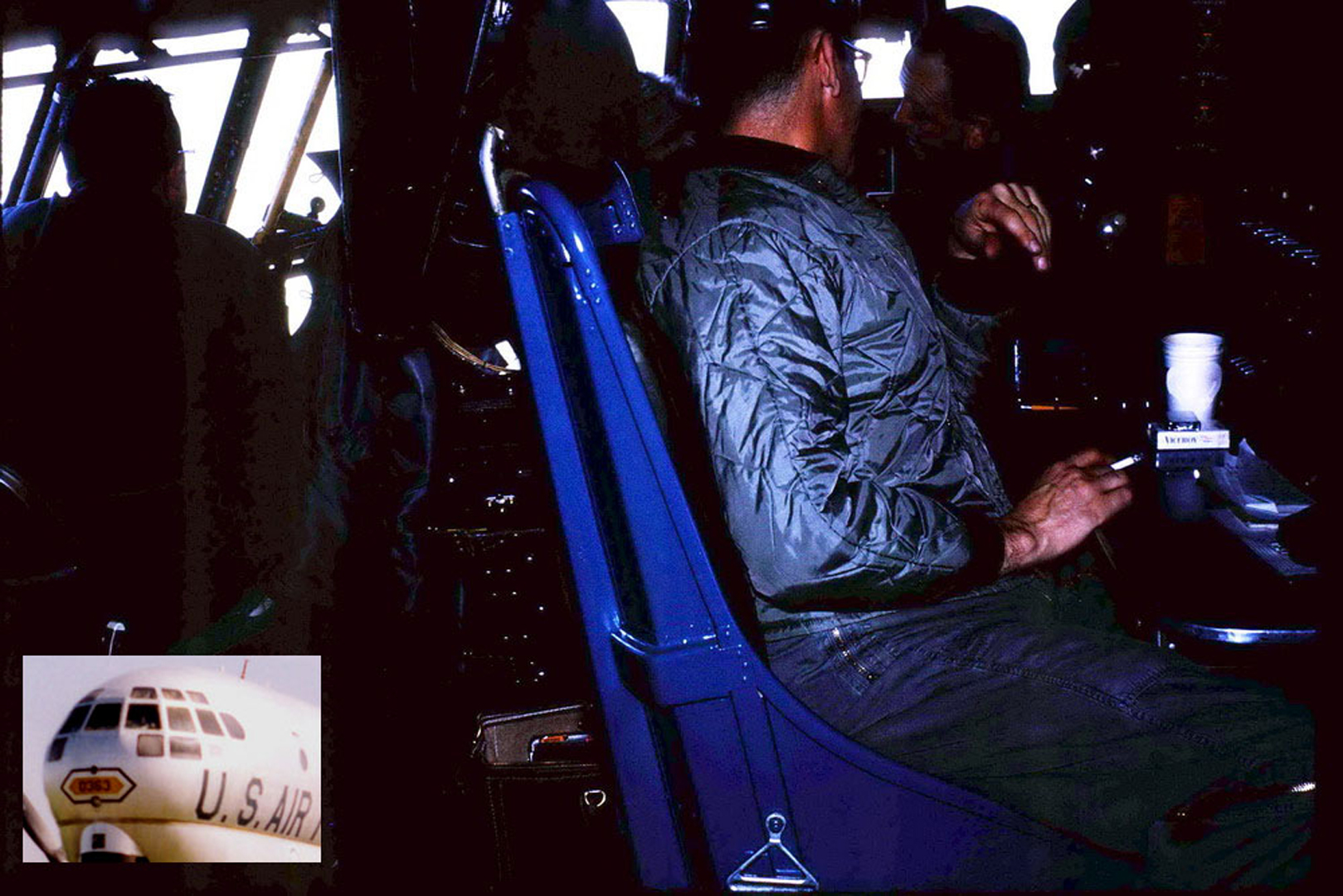 From the inside of the KC-97. Notice the crew configuration and as this aircraft was pressurized, the crew could smoke.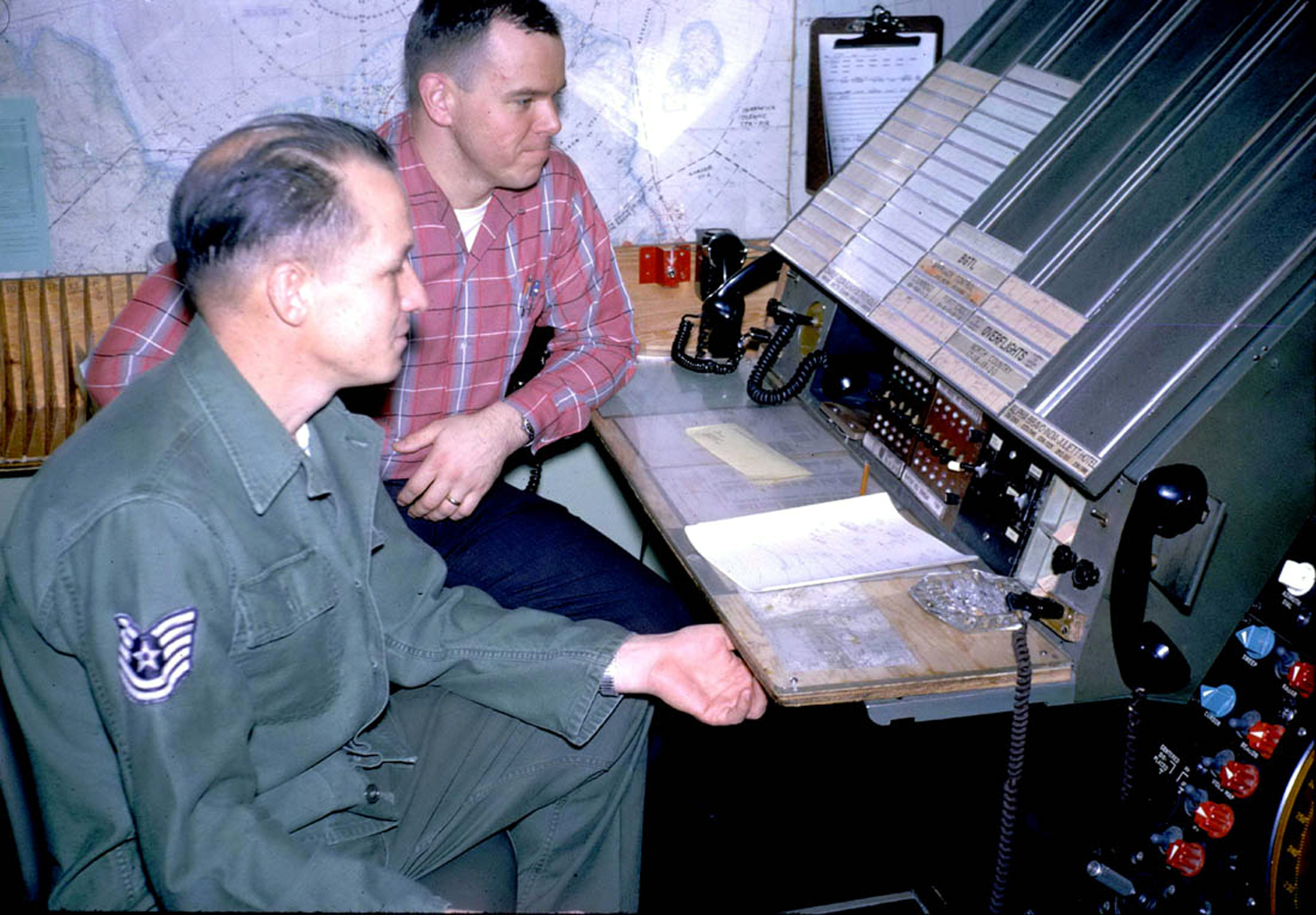 1964 (R) A picture of two fellows manning the approach control faciltiy at Thule Iceland.
from Ron Hay: This was in March 1964 and Thule only had a few hours of daylight. On the way up as we passed Saglek I could see the radome on the hilltop but to my surprise I also saw that there were four or five C119s disgorging paratroopers. The sea was frozen for about 20 miles out from the coast and these guys were landing on the ice. I could hardly believe it. I found out later that they were VanDoos and a few months later were posted to Cyprus. Winter training and a tropical posting...
---

Iqaluit (Frobisher Bay) information is from this ExploreNorth.
Quite extensive information about Goose Bay and its military history can be found at Wikipedia.

A great aviation website with considerable Northern content at Ruud Leeuw's - bring coffee!

The majority of images featured on this page are from Ron Hay's
collection - thanks very much for sharing your photographic memories Ron.
Latest webpage update is April 18, 2013
---
---
Of historical note, the two flags featured in the title are Nunavut on the left, and Labrador on the right.

Regarding the flag of Nunavut, the colours, blue and gold, symbolize the riches of the land, sea and sky. Red is a reference to Canada. The inuksuk symbolizes stone monuments which guide people on the land and mark sacred and other special places. The star is the Niqirtsuituq, the North Star and the traditional guide for navigation. The North Star is also symbolic of the leadership of elders in the community.

The flag of Labrador, while unofficial, is used to represent the mainland part of the Canadian province of Newfoundland and Labrador as distinct from the island of Newfoundland. It was designed in 1973 by Michael S. Martin. This Labrador flag features a spruce twig, and the three sprigs are said to be symbolic of Labrador's people; the Inuit, Innu and European settlers. The white stripe represents winter snows; the blue stripe represents the rivers and lakes, and the green stripe represents the forests.
(Source: World Atlas and Wikipedia.)

---
---