YUL - Montreal ATC
---
---

- The Earliest Years -

- newest addition: 1974 Speakeasy - May 20, 2020 -

Here is a direct link to Gilles Demers website which includes quite a few ATC related photos. Scroll down to ATC UL you will find links to many photos.

I
n the beginning...
Not all of the controllers who joined the service in the early forties passed through classes at St. Hubert, Quebec. In those days a written examination was the main criterion for a licence and many controllers joined ATC through self-study and on-the-job training."
Those simple words describe the rather inauspicious beginnings of Air Traffic Control in Canada. Sometimes information comes from the most unexpected sources. In October '06 Tim Yates put me in contact with a friend of his, Dave Hilchie. As it turns out, Dave's father was Canada's 2nd Air Traffic Controller!. In his words:
"An early figure in the very beginning stages of Canadian ATC was Wilf Hilchie, who in the summer of 1939, acquired the second licence issued. Hilchie was one of a number of Canadians who did five year Short Service Commissions in the RAF during the 1930's. He returned to Canada in 1936 but it was during the obligatory one month Reserve training back in the UK in the summers of 1937 and 1938 that he developed an interest in the newly evolving business of controlling aircraft movements. An RAF friend by the name of Larry Mowatt was working as a Controller at Croydon, which was then the airport for the City of London and the hub of extensive airline operations between UK and the continent. Airport movements in Canada were still minimal by comparison but from the European perspective it wasn't difficult to see that once traffic reached a certain point some sort of control would be essential."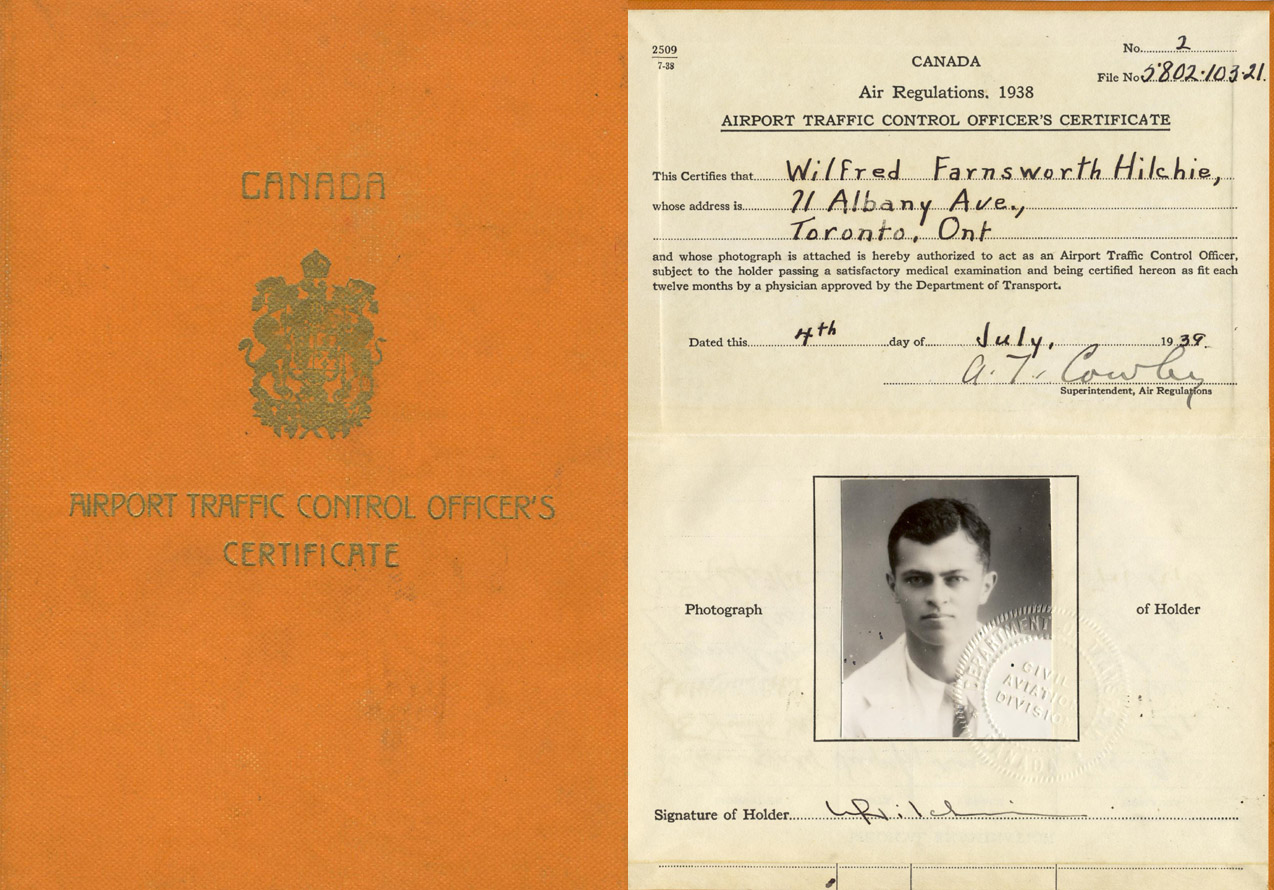 "... Dad's original, passport style licence, dated July 04, 1939. There was one brief reference to (my father's) involvement in course #1 in an article entitled "Air Traffic Control, Then and Now" by W.J. Elwood, published in the Canadian Aviation Historical Society Journal, Volume 15, No 3.

During the winter of 1938/39, while working at the Radio Range Station in Regina, Hilchie studied the British manuals on his own and then successfully challenged the newly created Canadian examination in the early summer of 1939 and was issued ATC licence #2. That summer he spent bush flying out of Senneterre for Dominion Skyways but in early October was telegraphed his wartime call-up by the RAF Reserve and told to report to a certain room in the Royal York Hotel in Toronto. It was here that he got the news that the RAF had agreed to loan his services to the Canadian DOT. The epicentre of landplane operations in Canada at that time was St. Hubert, the airport for Montreal. The scheduled airlines, such as they were, operated IFR into this field and with the war's outbreak Air Force Nordo operations in the area were growing exponentially. The crisis point had been reached with the posting of Curt Bogert, the functioning controller there, to Ottawa in order to work on the expanding paper structure. The traffic situation at St. Hubert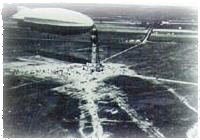 was seen to be seriously dangerous and the Department was pulling all the strings it could to get things under control.
The Hilchie's moved to a rented apartment in St. Lambert in mid October and Wilf was immediately dumped into the practical side of controlling at the deep end. Shifts sometimes extended up to twenty hours with the basic tools of radio, landlines and light-gun. After getting an immediate handle on the safety issue, the next priority was developing a pool of new controllers and the first training courses were organized, as has been described elsewhere. Wilf was one of the instructors of the first training class and his original 1939 exam was used as the exam marking guide. By March of 1940 new controllers were being streamed into the system, the training program was functioning and the crisis was deemed to have passed.
In Wilf Hilchie's case, it was global events that pulled him into the dawn of air traffic control in Canada and it was global events that pushed him away from the field. The Department pulled strings again and he was directed into the set-up of Air Navigation schools, being involved in the organization and operation of Number 1 AOS at Malton in the spring of 1940 and Number 10 AOS at Chatham N.B. in 1941. After Pearl Harbour a crash development program of airports and range stations was urgently required in the West and in late December 1941 Hilchie was drafted directly into DOT as an Inspector in the Airports and Airways branch, being sent to Lethbridge and then Vancouver in 1942. By the workings of fate it was after four wartime years in the west and three post-war in Ottawa that Wilf Hilchie returned to Montreal. Having by then a wide experience in his field and being bilingual he was named the Regional Superintendent of Airways for the Quebec Region in the summer of 1949 and was there in time to be appointed the chief departmental accident investigator into the tragic bombing near Quebec City of the Canadian Pacific Airlines scheduled flight for which Albert Guay was subsequently convicted and hanged. As if to prove the old contention that flying is safer than driving Wilf Hilchie himself, after a flying career beginning in 1925, fell victim to a car accident on March 15, 1951 while driving home late from work in a snowstorm."
More information about Wilfred Hilchie can be found
here.
---
---
- In the 1960s-
From the editor
: In September 1966 Lloyd Pascoe and I were hired off the street in Winnipeg we were the "property" of the Ontario Region and were destined to work in Toronto. However, a November Friday night drive from Ottawa to Montreal just blew me away. Being from Northern Manitoba, the biggest city I had ever visited was Winnipeg, so Montreal was simply amazing. At the time the rumour was that one could get into IFR quicker in Montreal than Toronto so while in the ATS school I requested a transfer to Montreal Region. The rumour this turned out to be true in my case as I reported to Montreal Tower in February 10, 1967 and was checked out in Montreal ACC in May 12, 1969.
Four of us reported to Dorval for VFR training that February; Michel Bussieres, Tom Fudakowski, Noel Salomon and myself. In those days, Bert Lavigne was the Chief, the supervisors were Fern Frenette, Guy Bourgie, Bob Danziger and Harry Grolke, My OJI was Dave Shields who left ATC a couple a years later to join the Tupperware company.
When I reported to UL ACC in January 1969, Pierre Joubert was the Chief and the supervisors were Max Butler, Nick Granata. Roger Pelletier and Al Cunnius. Our IFR course, instructed by Gord Gibson and Pierre Proulx, was a bit of an experiment as we students were paired and expected to check out in both East and West. Previous courses worked either West+Departure or East+Arrival. I was assigned to crew 3 and my IFR instructor on the East side was Hubert Gervais while Pierre Sauve (my other half) worked the West with Robbie Milliken. Every month Pierre and I switched sides and instructors.
I clearly remember my first shift as a trainee as Hubert and I did not do too much controlling. Instead he made sure I clearly understood the layout of the ACC, how things worked when it got busy and co-ordinators did the planning, and who the controllers were. Eventually I sat down at East Radar and began. As I pressed the hotline to hand off to Arrival, Hubert said; "Turn and look at the Arrival controller." I did and asked why. He replied that the controller was Garney Strahl and although he would never talk to me, he would be the one to make the decision whether or not I would check out! Actually Garney did come over to to speak to me during the next shift. He didn't introduce himself, he simply asked if I played Lead or Second (I guess he found out I was from the Prairies). When I replied that I didn't curl he looked at me like I was from outer space and didn't speak to me again for a couple of months. Being from the Prairies and not curling is the same as being from Quebec and not playing hockey!!! I thoroughly enjoyed working in Montreal ACC from 1969 to 1976. The "joie de vive" was amazing; We played hockey and golf, held car rallies, went snowmobiling in the winter and had simply the best Christmas parties on the 2nd floor of the airport terminal building.
I don't know the year, I would guess about 1964 or so.
Ground Control, Dorval Tower about 1966, Nicole Barclay (Viau). Not the first female controller in Montreal Region, but the first to become an IFR controller.
Dorval Tower, just before Expo67.
Nicole, Bob Pennefather, Michel Bussieres
| | | |
| --- | --- | --- |
| Montreal Enroute West, 1968 perhaps, Doug "Hound Dog" Buchanan. | Montreal TCU, Dec '67 or '68. Can't name the people however. | Boyd Biddescombe used to travel home to New Brunswick and then return with a few bags of dulce and fiddleheads, strange food (at least for someone from Flin Flon in northern Manitoba). |
| | |
| --- | --- |
| Montreal TCU 1968 or so (this TCU console with scan converters was dubbed "The Titanic"). That's Bob Pennefather on Arrival and Don Johnson as his instructor. | Montreal TCU, Dec '68 or Jan '69. Nicole on-the-job training. Left to right; Ken Walker, Nicole, then Bill Crouch. Standing and holding the phone is Earl "The Pearl" McDougall. |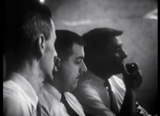 November 29, 1963. Ste.Therese AirCanada DC-8 crash, TCA31 YUL-YYZ
On the November 29, 2013, CBC tv broadcast a special on the occasion of the 50th anniversary of this tragic event. I recall in the fall of 1964 watching the CBC news program "This Hour Has Seven Days" which presented the findings to date about that accident. In 2013 I pvr'ed the special and saved the picture on the left. As it turns out the picture is of UL ACC controllers Don Johnson, Junior Bishop and Bill Morrison and was only a 'filler' picture. There was however footage of Doug Buchanan who had been working West Low. I did contact Al Yeadon to verify the tv footage and here is his reply.

Al Yeadon: "I remember the night in the ACC very well. I was working Arrival radar and Ken Walker was on Departure. After AC 831 turned left on departure toward Ste. Eustache he disappeared off the radar and we all attempted contact on our frequency, including the west where Buchanan was probably working. At that precise time I cleared an Air France flight who I was vectoring for RW 06L to make a 360 because it was too high for a straight -in. Later, during the investigation, I was asked why I had given AF a 360. I recall it was about 13K, 12 miles from touchdown. Also at the end of the shift, George Champagne, Real Berube and Eric Staples drove up to the crash site and slogged around up there for several hours. Frank Levesque's uncle was a passenger on AC831. I also remember the weather in the Montreal area at the time, it was miserable with heavy rain and strong wind. Road traffic to the airport was heavy and several passengers missed the flight due to late arrival."

Phil Gies: I started my career in UL ACC in early 1969 and I seem to remember Tony Andony speaking about the Ste.Therese crash as his brother was then working for DOT accident investigation and Tony went with him to visit the crash site. He said it was very eerie and unsettling, water everywhere and this large sort of instant debris filled lake where the DC-8 had crashed.
---
- In the 1970s-
| | |
| --- | --- |
| 1970; In the IFR school Foster Richardson "points" Larry Boulet in the right direction. Larry is working on the UL simulator which, at that time, was brand new micro computer technology. | 1974 UL West, Valley sector. Larry Gray on radio, Marcel (BM) Brossard on data. |
| | | |
| --- | --- | --- |
| This picture of the TCU Titanic was taken in the late 70s. On arrival Nick Kusznirecky in training monitored by Michel Boucher. On data, Fred Jodozi (FZ) | Pierre Gauthier arrived in UL ACC after me but because he had checked out in QB TCU before he got to keep his PG ops inits and I had to change! Murray Daigle suggested I use JJ (which can sound like jig-a-jig in Swahili which is the effect I wanted with FO or FU which management would not allow me use). That's my story and I'm sticking to it. | The controller on Valley Radio is Gilbert (LK) Légaré. On data is Garry Kitchen in training monitored by Claude (CB) Bizzarro. |
- Thanks to Alain Jacques for the names added March 2014 -

1970 or 71 IFR course.
L-R: Gilles Dessurault, Pierre Gauthier, Yves Ledoux, Bob Smith, Robert DesJardin, Steve Wells, Noel Salomon, Steve Corrie, Mike McBurney. Instructors were Louis Desmarais and Doug Buchanan
---
- Post 1980s-
| | |
| --- | --- |
| Montreal TCU 2004. I still recognize a few faces; Ralph McDonnough, JP Duquette for example. Good to see the Montreal esprit de corps is alive and well. | Montreal West 2004. Let's see now, I recognize Al Kaslauskus, Larry Gray, Rene "Gunner" Lauzon, and is that Ian St.James wearing suspenders? |
| | |
| --- | --- |
| 1999 perhaps, Rene "Gunner" Lauzon (always a positive attitude), Alain Renaud (ex RCAF after my time in UL), and maybe the steadiest terminal controller for 30 years, Jean Guy Ferland. | George Champagne (CH = "Crazy Horse"), a very popular Enroute controller. Before my time there was a great story about he and and his long time pal, Real Berube. Seems late one winter in the '60s they hitched up a travel trailer to an ancient VW bug and drove to Mexico and back. They did the whole trip in 3rd gear as the bug couldn't hack it in 4th! |
| | |
| --- | --- |
| I think the fish are safe from Ralph McDonnough. | And holding up the other end of the boat is Ralph's buddy Jeff Gallant. He was sometimes known as Gallant Jeffrey as he was an RCMP (GRC s'il vous plait) officer in his former life. Check out a true Gallant story by clicking on the hockey player on the main page. |
From Louis De Lisle's collection;
MU-Ralph McDonnough, YS-Yves Saulnier, PF-Fred Petrauskas, JQ-JeanPaul Duquette and LO-Louis De Lisle.
Modern day coureurs de bois or des chausseurs, take your pick. Robert Naegele, Jeff Gallant and Guy Lebel. Notice that Jeff is drinking a Carlsberg NOT un Cinquante!!!
Now the question is, did Jeff do the printing "small chinook" or is it really a small chinook. As my fishing is limited to jack, pickerel and smallmouth bass, I cannot confirm the truth of the statement, however that is one good-sized fish in any case!
An excellent 1973 aerial view of Dorval and Cartierville airports. Today, there are no runways at Cartierville, only condos and the Bombardier factory at Dorval would be quite dominant, just North of the Air Canada hangar.
photo credit - Denis Garand
Jean-Paul Tremblay (JT) was already a fixture in Dorval tower when I started in 1967. A great guy to work with.
photo credit - Denis Garand
---
---
- Wilfred Hilchie -
From the Editor: The original emails from Dave Hilchie follow. I include them as they add a personal dimension to the story of his father.
"... It was Mr. Boisvert who told me back in the late fifties (when he was in the tower at Cartierville) that dad taught on that course and that they used his original exam paper from 1939 as the marking guide for the course exams. I know my parents lived in St. Lambert during the winter of 1939/40 because my father, who was called up by the RAF when war broke out Sept. 39 (he was bush flying for Dominion Skyways in Senneterre), having served a five year short service commission with the RAF from 1930 to 35 (like a lot of Canadians), was seconded to DOT at their request to cope with the ATC crisis that came about at St. Hubert. RCAF ab initio training had fired up there and there were daily conflicts with TCA and Colonial Airways scheduled flights.
I think Curt Bogert (licence #1) was there until war broke out but was pulled in to Ottawa to organize the paper side of things. My older brother, who was ten at that time, remembers (our father's) stories of the airborne chaos he was trying to control with a light gun from a hangar roof. As soon as the first class graduated he was moved over to another crisis area and became a chief pilot and manager at the Air Observer's Schools (Avro Ansons) at Malton and then Chatham NB, before being drafted into DOT the end of 1941 as an Inspector."
In another email Dave continues memories of his father.
"... the early training seems pretty sketchy but of course that was an era when a lot more was expected of people in terms of common sense and self reliance. From what my mother wrote in her memoirs my dad wrote the exam on his own in the early summer of 1939 after he had resigned from the Radio Range Station in Regina to go back flying again (which he did, for Dominion Skyways in Senneterre). She writes that his practical experience of ATC was obtained in UK, where one of his old RAF buddies, a Scotsman by the name of Larry Mowatt, was working in the tower at Croydon. Mowatt had been a fighter pilot flying Bristol Bulldogs but was seriously injured in a crash and was taken off flying status. He became an early Air Traffic Controller in Britain and sold dad on the idea that ATC would become essential as aviation grew."
(My father's) "... short service commission in the RAF ended the beginning of 1936 but, as a reserve officer, he had to return to the UK in 1937 and 38 for mandatory refresher training. His logbooks show he spent a month flying out of Calshot and White Waltham in those years but I don't know how or when he found the opportunity to be at Croydon.
(My mother) "... writes that dad was issued a call-up in August 1939, telegraphed to Senneterre, but wasn't contacted again until Oct. 06th, when he got another cable instructing him to meet two RAF officers at the Royal York Hotel in Toronto, ASAP. My brother John, who was eight at the time, remembers the dramatic two-day drive through a heavy snow storm out of Senneterre in the family 37 Chevy coupe. They got to North Bay that night and Toronto the next day. The RAF guys told him that Civil Av in Ottawa had gotten approval of the Air Ministry in London to borrow dad for St. Hubert as the air traffic situation there, with RCAF training and airline movements, was getting seriously dangerous. The family moved to St. Lambert in mid October of 1939 and sub-letted an apartment there until March 1940, when the crisis was deemed over and dad went to Malton as Chief Pilot at No. 1 AOS."
"Re: the St. Hubert experience, the only references in mother's notes was that (my father) was involved in controlling - up to 20 hrs at a spell she writes, including a night shift - as well as training new recruits. His original exam from 1939 was used as a marking guide. William Elwood in his CAHS article - you probably have access to it - mentions two other gents as well, "Taylor and Champagne" but I don't know anything about them. I did speak to a friendly guy by the name of Louis Boisvert at the Cartierville tower, probably in 1962, who I understood to have been trained in dad's first class. He probably passed away years ago. If I remember correctly it was Don Johnston who took me around to meet Mr. Boisvert. Don was a controller in Dorval at that time."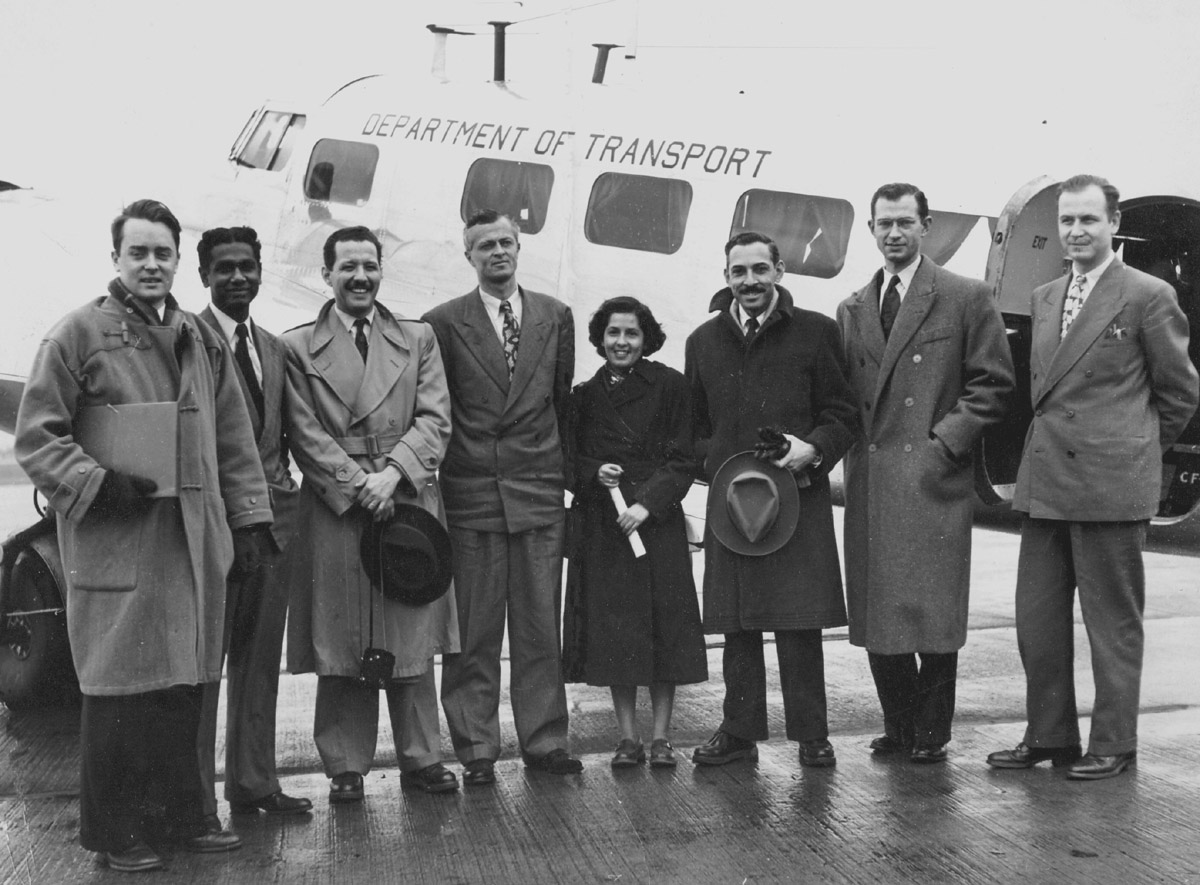 (The photo on the left) "... was taken in 1950 at Dorval and shows (my father), fourth from the left, his secretary Alma Kiwana, Jean-Paul Fournier (first person on the right, a DOT Inspector and co-joe on this flight) and five ICAO representatives. I was told at one time that the occasion was a demo flight of the first ILS in Canada. Dad was told to put it on for the ICAO types, (and) I have the impression it was at St. Hubert. The aircraft is the Lockheed 10A CF-TCC, one of the three original 10's bought by TCA but which was transferred to DOT in 1939 and which is now owned once more by Air Canada and operated for PR work - when budgetary considerations permit."
---
Back to Top
Please forward comments, stories, corrections or additions to giesph@mts.net

This site was last updated: March 14, 2014