Tuscany. The very word invokes visions of beautiful, rolling misty hills, small fortified towns built on top of those misty hills, vineyards, romantic dining as the sun goes down. Think of the movies; Under the Tuscan Sun or the Gladiator or Midsummer's Night Dream, the list goes on. Tuscany is all of this and more.


---
Saturday - day 5. We took a fast train from Rome to Florence. Perhaps I should clarify that the train we took may not have been fast in European terms, but for Canadians it was a rocket. Not only that, but it left on time and it arrived on time. Unbelievable.
There was construction on our walk from the train station to the Avis car rental. A detour meant we walked for at least 1/2 an hour in the midday heat, pulling our heavy luggage. Good thing it wasn't raining! Our rental car turned out to be a new VW Passat Wagon, diesel 6sp manual, very comfortable, fast, and great gas mileage. We filled up the car with luggage and people, Denis hooked up his TomTom gps unit affectionately called HAL, and we were off. We were quickly out of the city and headed south and west into Tuscany. Oddly, it felt like we were finally beginning our holiday as we were on our own, far from the crowds and the ease of moving around Rome on public transit
Perhaps it was the many movies we have seen about Tuscany and Italy so we thought the hills would be dry and brown in October but we were all quite surprised how green and verdant

it was. Our destination was a farm B&B called Poggio Asciutto near Greve in Chianti. HAL directed us along the twisty narrow roads with his pleasant (sort of) British accent and we found Greve without difficulty. We had to stop here as we were past lunch hour. Fortunately we found an excellent pizza restaurant in Greve called La Cantina Pizzeria.
A couple of years ago my wife Heather had read an article in the Winnipeg Free Press about this great sounding farm B&B in Tuscany. She saved the article and from time to time I would look on Tripadvisor for reviews. There weren't many but all were uniformly excellent so when the dream of going to Italy and Tuscany came into focus, Poggio Asciutto was a natural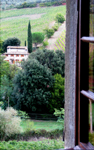 choice. Only several kms South of Greve in Chianti, HAL found Poggio without difficulty and we met our hosts for the next days, Massimo and Eva. Poggio is a working farm and they grow olives and grapes. We arrived just at the end of the grape harvest and in fact some of the guests were out in the fields picking the quite tasty Sangiovese grapes. We returned to Greve and bought salad veggies, olives, porchino cheese, prosciutto and wine so we could enjoy a simple evening meal. Poggio would be our "base camp", so every morning after a good breakfast we were off to explore this picturesque province filled with stunning panoramic views and charming hilltop villages.


---
Sunday - day 6. A hearty breakfast and we were off, map and HAL, to visit Siena. The word "siena" can be defined as; "... a name derived from the most notable Renaissance location for the earth, Siena, Italy, and is short for terra di Siena, "earth of Siena". An old and very beautiful city, Siena competed with Florence for many years to be the dominant city state in Tuscany during the Renaissance. When you finally reach Piazza del Campo you are struck with both the muted yet vibrant colours of the magnificent buildings, and the intricate brick pavement.

Everywhere there are people, couples, singles, families, tourists. And while you are visiting the shops and people watching, you remember that twice a year they hold a bareback horse race, the Palio di Siena, in this very square. Thousands of people, 10 horses and riders - it must be incredible!
It's strange that while we visited Rome for several days and saw ancient sites, somehow Siena felt older. I guess we didn't see that similar part of Rome, the part where people lived day-to-day. Every corner seems to be a picture in waiting, and always this brownish-red coloring. We did get to the Duomo and while it is truly impressive, it is almost too much, too intricate and too full of priceless art.
There are many who find the Duomo's massive columns of alternating white and dark green marble layers

to be very

attractive. I find the overall effect is too busy and detracts from the purpose of the building, but this is a personal opinion. The interior is quite fantastic, not only for the patterned marble columns, but the inlaid marble floors, the art and the treasured religious sculptures. Artists and sculptors include Bernini, Michelangelo and Donatello as well as many other works of art. Just like St. Peter's Basilica or Borghese Gallery you are viewing priceless art, works that are centuries old and there are no copies - this is it. It almost takes your breath away.