« The Dohany Street or Great Synagogue. Many Jews lost their lives during the Nazi occupation of Budapest yet this synagogue, the 2nd largest in the world, survived intact. The occupying German forces used the towers for their communications network - rather ironic is it not.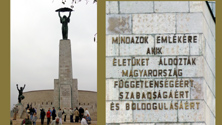 « To mark the 1945 "liberation" of Hungary from the Nazi invasion in 1944, the Soviets erected this monument. The original wording said: "To the memory of the liberating Soviet heroes [erected by] the grateful Hungarian people [in] 1945". The citizens of Budapest were less than impressed.
After the 1989 transition from communist rule to democracy, the inscription was modified to read: "To the memory of those all who sacrificed their lives for the independence, freedom, and prosperity of Hungary". As our guide pointed out, many things changed over the years, some for the better.



« Finally got to do one of my goals, to visit the statue of the Little Prince. The statue is really of a princess but legend has it that to guard her safety she dressed like a boy. Denis and I made the ½ mile trek from the Amacerto along the Danube walkways using my Oregon550 gps so we knew where we were going and perhaps more importantly, how to get back...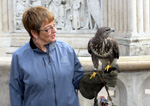 « And here's a Prairie Canadian trying out falconry. There was a falconer near the church we visited on the Pest side of the Danube.
✧ the sights of Budapest, move your mouse across the smaller images, F11 = full screen mode on/off ✧
(gallery thumbnail hover info)