2012

Danube

River

Cruise


Czech Republic Currency is the Koruna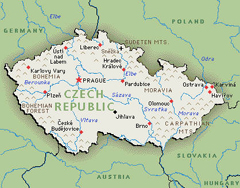 Czech Republic, the Czech Republic is a landlocked country in Central Europe. The country is bordered by Germany to the west, Austria to the south, Slovakia to the east and Poland to the north. Prague is its capital and largest city, with 1.3 million inhabitants. The Czech Republic includes the historical territories of Bohemia and Moravia and a small part of Silesia. (Wikipedia)

After a good breakfast on the Amacerto we boarded busses for the trip to Prague. While it is only about 160 miles as the crow flies, a small trip by Canadian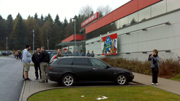 standards, we went through mountains to lunch at Karlovy Vary and didn't reach Prague until after 6:00pm - a long day.
Our first comfort stop in the Czech Replubic was at a duty free / gas station in Svaty Kriz - good prices. Our drive then took us through the town of Cheb with its crowded streets then further into the mountains arriving at the spa resort city of Karlovy Vary (formerly Karlsbad or Carlsbad).


Founded in 1370 Karlovy Vary is historically famous for its hot springs (13 main springs, about 300 smaller springs, and the warm-water Teplá River. Many scenes in the recent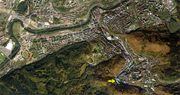 James Bond movie "Casino Royale" were filmed the Grand Hotel Pupp (pronounced Poop...). I had researched this hotel on the internet and figured we couldn't afford it so I mapped out locations for several other places as I knew we were stopping there for lunch. Imagine my surprise when Mike (CAA president) announced that we would be meeting CAA group 2 (Prague to Nuremburg to Budapest) and having lunch at the Hotel Pupp. We dined in the Grand Ball Room which is where THE A guests sit during the Czech International Film Festival. It was, in a word, grand. The yellow arrow in the picture on the left shows where the Grand Hotel Pupp is located in relation to the city center. What a beautiful city, we took many pictures.
✧ the Grand Ballroom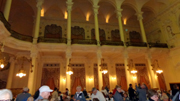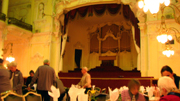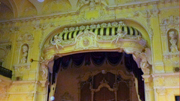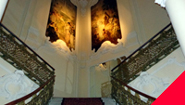 ---
✧ the sights of Karlovy Vary, move your mouse across the smaller images, F11 = full screen mode on/off (gallery thumbnail hover info) ✧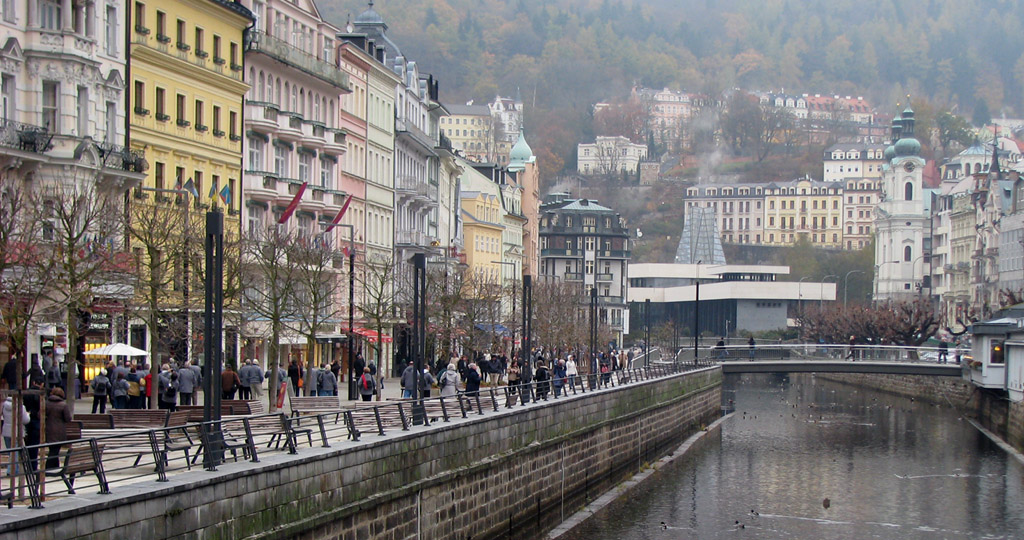 Our second visit to a former Iron Curtain country. During WWII Prague was only bombed once, near the end of the war and apparently by accident. In 1946 the communist party won a general election by a wide majority and by 1948 they were the government of the day. But the Czechs bridled under the hard-line authoritarian rule for the next 40 years until the "Velvet Revolution" of 1989.

The 1960s were a time of greater political and cultural freedom and changes were introduced by Alexander Dubcek, secretary of the Communist Party, as he moved to create a more humane version of socialism. Growing political freedoms in Czechoslovakia were seen as a threat by the Soviet Union and in August 1968 five Warsaw Pact member countries invaded Czechoslovakia and Soviet troops continued to occupy the country until 1989. But the winds of change were blowing across the communist states.

On December 10, 1989, President Gustáv Husák appointed the first largely non-communist government in Czechoslovakia since 1948, and resigned. Alexander Dubcek was elected speaker of the federal parliament on December 28 and Václav Havel the President of Czechoslovakia on December 29, 1989. (Wikipedia)
---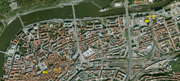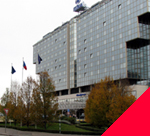 We arrived in Prague at night, in a bus and it felt "normal" as there were cars and traffic - just like home. An odd combination as most bigger Eastern European cities are not designed for traffic. Prague at 1.2 million has more traffic and cars than Budapest at 1.7 million. Our tourguide was of the opinon the problem was that the Czechs have this love affair with cars!

On our own we would have stayed at a smaller hotel closer to the Charles bridge however CAA booked us into the Hilton Prague - very spiffy and upscale. US president George Bush Jr stayed there in 2007 as it is the most "secure" hotel in Prague.
For Friday, our 1st full day in Prague, CAA offered an optional tour of Prague castle. "Prague Castle was most likely founded in around 880 by Prince Borivoj of the Premyslid Dynasty (Premyslovci). According to the Guinness Book of World Records, Prague Castle, a UNESCO World Heritage site, is the largest coherent castle complex in the world, with an area of almost 70,000 m˛." Obviously a lot of walking so I chose not to go but Denis, Hilda and Heather did go. They departed early in the morning and didn't return until after 3pm. The tour included lunch, good thing...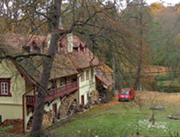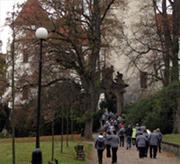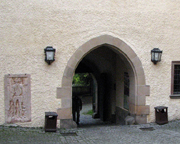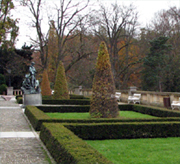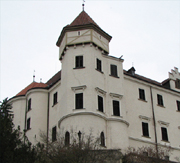 ---
So while the others went for a castle tour I opted to check out Prague's transit system, at least the trams... Of course all this wandering required a supply of caffeine so I found a small coffee shop. Czechs like to smoke so I lasted only about 10 or so minutes in the blue haze and then went to pay for my "Cafe Americano". What's this - no Czech Koruna and no Euros - whoops! So I went to the till and showed by Visa - nope. So I shook my head and showed an empty pocket and said sorry. The woman behind the till bid me follow her out the door where, out on the sidewalk, she pointed out a change kiosk. I did have a Cdn $5 so I managed to exchange it and returned to pay for my coffee and left a good tip and said "Dekuji", Czech for thank you (sounds like 'dye-koo-yi') and got a nice smile in return. I next found a bank machine and withdrew some Koruna with my Visa card . In retrospect not a good idea as Visa has interesting daily charges for cash withdrawals - should have used our own accounts. Managed to find a nice spot for lunch and continued a pleasant walk down many streets in Prague "New Town" - very comfortable. Found a great place for pizza while looking for another restaurant.

✧ my smoky coffee house ✧ change kiosk ✧ good lunch ✧ Palladium ✧ Powder Tower in the background ✧ good pizza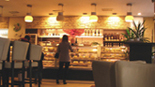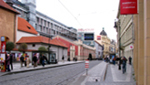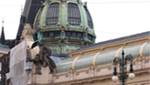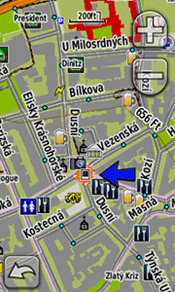 When the other finally returned to the hotel after 4:30 we decided to take a tram downtown and, after touring, we would find the Kolkovna restaurant for supper. This was a "project" of mine; find a good restaurant in Old Town, download maps and other data files to my Oregon550 handheld gps, then find the restaurant. It was dark, the streets are narrow and twisty, lots of people walking just like us. But we trusted our gps and finally found it. It was crowded with mostly young people, there was a line up, there was a downstairs but it was jammed full. Heather said not to worry. She found someone who seemed to be in charge and explained we had come from all the way from Canada just to visit Kolkovna. He smiled and said follow me to a table with a reserved sign. He swept the sign aside and bid us sit. We thoroughly enjoyed our meals and beer. Turns out Kolkova is sort of a chain. There are maybe 3 or 4 Kolkovnas in the Czech Republic and they are owned by a brewing company but management is local. The pictures (and a couple of Oregon screen shots) for this section were taken by the Oregon550 with its rather limited camera.
I have mentioned previously that our handheld gps had all the maps of the countries we visited, all the cities too. Took a bit of work but well worth the effort. On the right is an actual size Oregon gps screen image of a map of Prague. I have "drilled down" for street detail and the blue arrow points to the Kolkovna restaurant. While it looks a bit cluttered, this is the least info provided. Note the map shows public washrooms, a theatre. It will even show ATMs, bike routes and metro stops. The little camera indicates and interesting tourist stop. It automatically creates and saves "breadcrumbs" so you can follow your way back home... Welcome to the digital age.

✧ Kolkovna restaurant ✧ Tyn cathedral at night ✧ dumplings, pork, salad, beer, we ate well




---
Prague is one of the oldest capital cities in Europe and a great city to walk especially when you take a metro that lets you off at Wenceslas Square and then you walk from New Town (Nove Mesto) that dates to at least 1350 into Old Town (Staré Mesto) that dates to at least 1250. You can't tell by the architecture - at least I couldn't. We were visiting over a school holiday weekend and the St. Charles bridge and area was teeming with people. Reminded me of our visit to Venice in late October 2009. It was crowded and we wondered what it was like at the height of tourist season! Of course our wandering meant we had to stop for a beer and we found a local brew pub. We sat next to a table of Germans from Stuttgard and during conversation learned they had come to Prague to thinking is would be quiet on the 1st weekend of November - not! The Czechs make very good beer by the way.

✧ brewing kettles ✧ Hilda & Heather ✧ tourist exchange ✧ wall art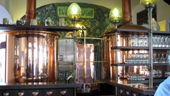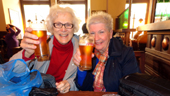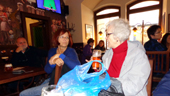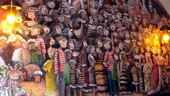 ---
✧ the sights of Prague, move your mouse across the smaller images, F11 = full screen mode on/off (gallery thumbnail hover info) ✧
---
✧ We loved the sights of Prague so much here I just had to include another gallery. Move your mouse across the smaller images, F11 = full screen mode on/off (gallery thumbnail hover info) ✧
✧ You are viewing this webpage in a new tab ✧
✧ To return, select the "2012 Danube Rivercruise Home Page" tab ✧
✧ Or or press HERE ✧
---
✧ General Website and Image Information ✧

✧ This website features pictures of the sights, lodgings and restaurants we visited. Small pictures are thumbnails of larger pictures. For the most part the pictures are 1600x900. Many browsers will limit this image size to what can be viewed and then display a small + or - sign to indicate further image action, ie enlarge and then shrink. Although the website/page code is developed on a 1600x900 display, it is verified on a 1366x766 display.

✧ As you move your mouse over most images, a little hand will appear indicating that a left mouse click will load a large (in some cases a much larger) image.
If you are moving your mouse across a picture gallery, see H O V E R info below.

✧ Some thumbnail photos will feature a red lower right corner. This indicates that clicking the thumbnail will load a LARGE (not 56k friendly) photo. If you click on one of these photos make sure you press F11 to view the full size image.

✧ Some thumbnail photos will feature a red G in lower right corner. This indicates that the full size image has embedded Lat/Long information so with the appropriate program you can locate the exact location using GoogleEarth.

✧ Press the F11 key for full page viewing, then press F11 again to restore the normal window view.

✧ Press the F5 key for page refresh otherwise your browser may retain and display only previous data.



* * * * * * * * * * * * * * * * *
✧ M O U S E H O V E R F E A T U R E ✧
When viewing the "picture galleries", if you hover your mouse over certain images for a couple of seconds, the message "enlarge" will appear. If you click on this thumbnail the original much bigger image will appear.
---
✧ Photos contributed by Denis, Heather and Phil ✧
---
Please forward corrections or additions, and website comments, suggestions or photos to phlatlander
---
✧ This site was last updated: January 13, 2013 ✧